Introducing Street Art NQ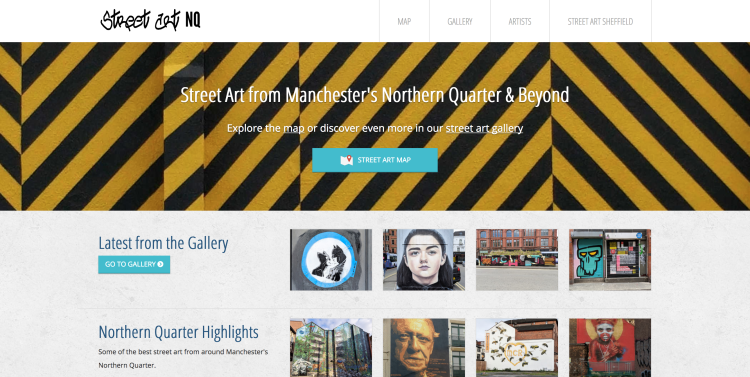 I'm excited to announce a new website, Street Art NQ, which I have officially launched today. This is a new sister site to Street Art Sheffield.
This website's concept of mapping street art across Sheffield has proven very popular over the last five years, so the new site is an extension of that. Street Art NQ aims to map out the vibrant street art scene found over the Pennines in Manchester's Northern Quarter.
There is a lot of great street art and graffiti in Manchester and much of it is located in the central location of the Northern Quarter. This quarter of the city is a buzzing neighbourhood of independent bars, cafés and shops just off Piccadilly Gardens. I have been making regular trips over to Manchester to check out the latest goings on for a number of years now. Much like Sheffield there are always new murals cropping up. Things like Out House and the Cities of Hope project have been commissioning and curating street art for a long time inviting some exciting artists to the area to paint.
Fans of Sheffield's street art should be pleased to see many of our local talent have contributed to Manchester's streets over the years including the likes of Marcus Method, Mila K, Faunagraphic and Phlegm. They have joined a large pool of local talent and internationally renowned street artists who have worked within the Northern Quarter and further out across Manchester.
If you are a fan of street art please check out the new Street Art NQ website and show your support by following the site on Twitter and Facebook.