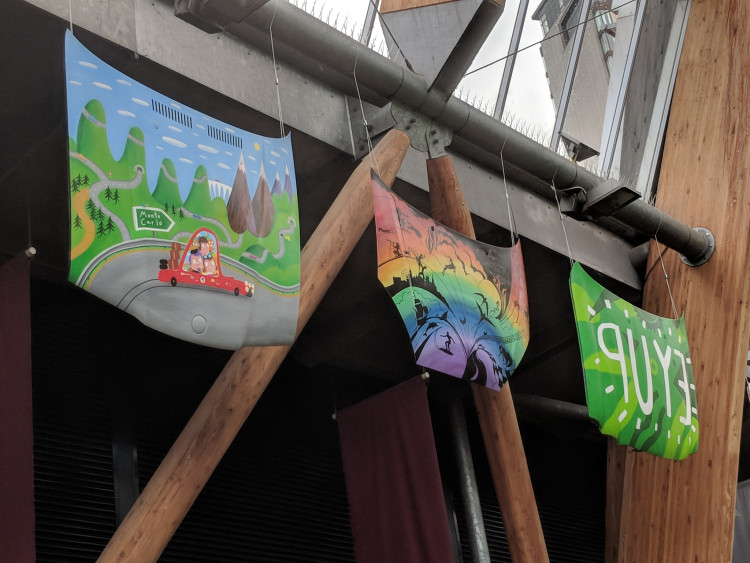 A new public art exhibition has opened in Sheffield's beautiful Winter Gardens and it's all for a good cause. Bangers and Cash opened last week in Sheffield city centre's large timber arched greenhouse. It features 23 colourfully painted car bonnets which will hang high throughout August before venturing out onto the road for a big adventure. Each car bonnet belongs to a bit of an old banger, the cars are apparently worth £650 or less each.
In September the bonnets will be reunited with their cars and go on a four day rally from Sheffield to Monte Carlo. That's over 1,200 miles across the UK, France, Belgium, Switzerland and Italy. Then in October the bonnets will go on auction to raise money for Roundabout. If you've not heard of Roundabout they're a local charity for youth homeless. They provide shelter and life skills to those between the ages of 16 and 24. They believe prevention is the key to ending youth homelessness.
If you walked passed Tudor Square during Tramlines weekend you might have been lucky enough to see local street artist Trik 9 working on his contribution to the fundraiser. His car bonnet is now one of the artworks on display in the Winter Gardens.
Contributions from other recognisable artists from Sheffield's street art scene include Rob Lee and Jo Peel.
Check out the Bangers and Cash website for more information about the exhibition and fundraising event. To learn more about the good work Roundabout do in Sheffield check out their website.