Explore Sheffield's Street Art Scene
New to Sheffield? We've put together this guide to help you start exploring our city's vibrant street art scene.
Join us for one of our
street art tours
to discover more about Sheffield's street art scene.
Sheffield City Centre
If you're wanting to explore the Steel City's street art scene, then the city centre is a good starting point. Some of Sheffield's largest murals can be found here.
There's not a lot of street art in the very heart of the city centre; however, Will Rea's massive Orchard Square mural is well worth checking out. Instead, head for either the Devonshire Quarter or the Cultural Industries Quarter.
The Devonshire Quarter is a busy area for both independent shops, cafes and nightlife. As well as some smaller artworks and painted store shutters, you will find some big wall murals in this area. Look out for works by Phlegm, Tom J Newell and Pete McKee.
Compared with the Devonshire Quarter, the Cultural Industries Quarter is a quieter part of the city centre. The area consists of University buildings, apartment blocks and art galleries, as well as some great independent cafes and pubs. There's lots of street art to be found around these streets. Works by Florence Blanchard, Jo Peel, Phlegm, Rob Lee and Kid Acne can be found around here.
We run street art tours of the city centre that will give you a good introduction to the city's street art scene.
Kelham Island / Neepsend
To the northern edge of the city centre is trendy Kelham Island. Many of the surrounding neighbourhoods, including Neepsend (just north of the Don), have adopted the Kelham Island brand, all keen to be associated with the area's popularity.
Kelham Island and Neepsend are home to many excellent independent pubs, bars, cafes and restaurants. In recent years, these have been joined by a growing street art scene in the area.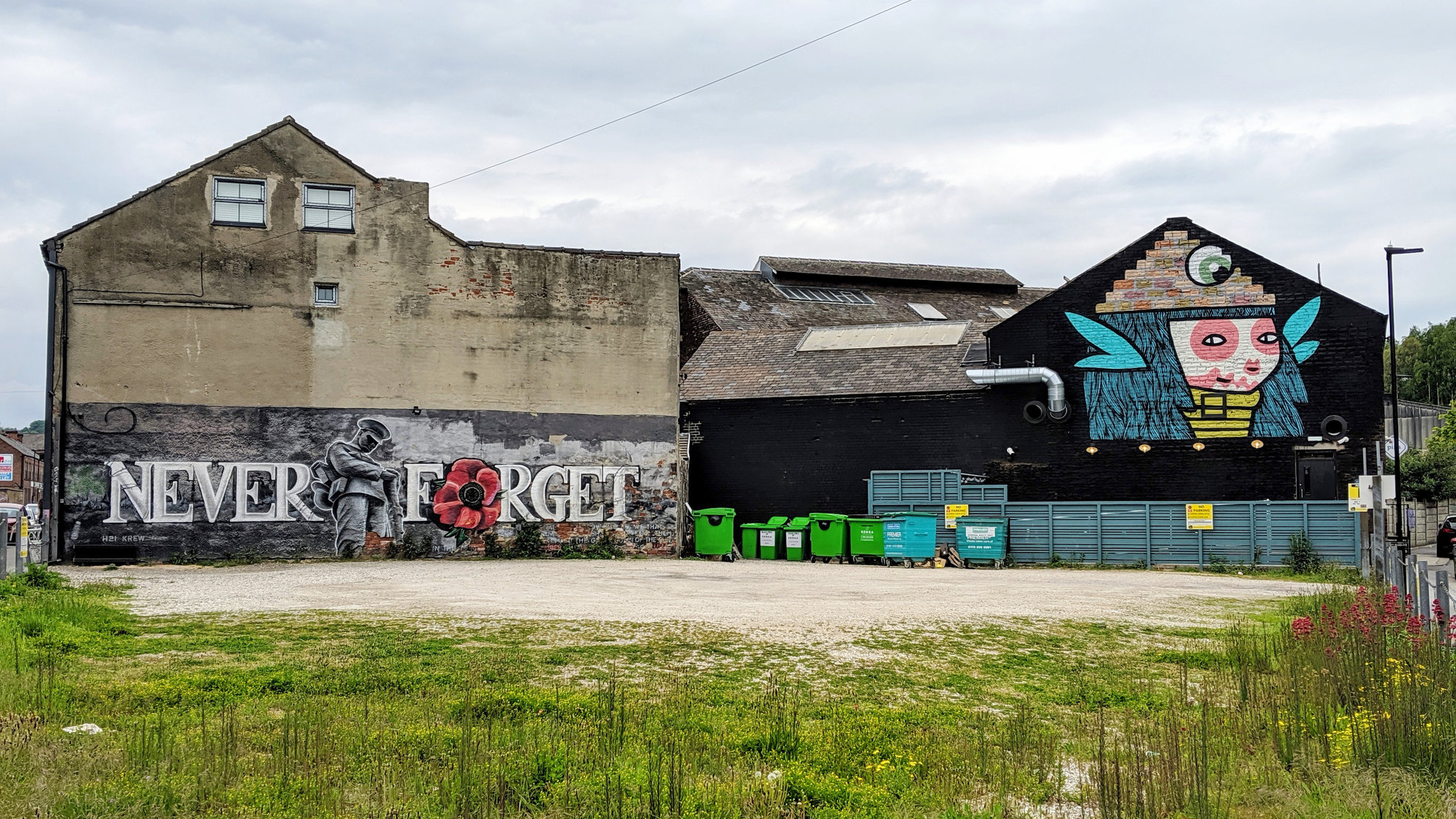 Feature walls have been painted by the likes of Phlegm, Jo Peel, Pete McKee and JupiterFab. There is also an open-air gallery along Ball Street.
Many of the street cabinets around the area have been painted as part of the Kelham Island Arts & Cultural Heritage Trail.
Antiques Quarter
Two miles south of the city centre is the Antiques Quarter, a great area to find some of Sheffield's finest street art. There's lots of big feature walls and painted shutters all over this area. Most of the big works are to be found along Abbeydale Road, but more can be found on Chesterfield Road, London Road and the streets inbetween.
There's plenty of great independent eateries and places to drink in this part of Sheffield.
If you plan on exploring the Antiques Quarter, head south from the city centre via London Road. There's lots of street art along this stretch, especially on some of the store shutters.
Sharrow Vale / Ecclesall Road
Sharrow Vale is a popular suburb of Sheffield, about 2 miles south of the city centre.
Sharrow Vale Road is a traditional high street with lots of independent businesses, and a surprisingly large number of coffee shops.
There are several murals to be found inbetween the stores along Sharrow Road, including works by Phlegm, CoLor and Game Over. This street is also home to Pete McKee's gallery; Pete is a very popular local artist who's work you may spot on some of the city's walls.
Ecclesall Road is also good to spot some street art. Stencil and paste-up artist Bubba 2000 is often busy contributing to this stretch.
The Canal
The Sheffield & Tinsley Canal provides a more tranquil opportunity to spot some street art.
There are many artworks to be found along the towpath. The Canal Trust has commissioned several artworks, including several works by artist Affix. The Concrete Canvas street art festival and jam has also contributed to the colourful artworks down by the canal.
If you decide to take a wander along the canal, be warned that the path is narrow in many places with some low bridges you need to pass under. In some parts the ground can become very muddy too.
Join us for one of our
street art tours
to discover more about Sheffield's street art scene.