About Street Art Sheffield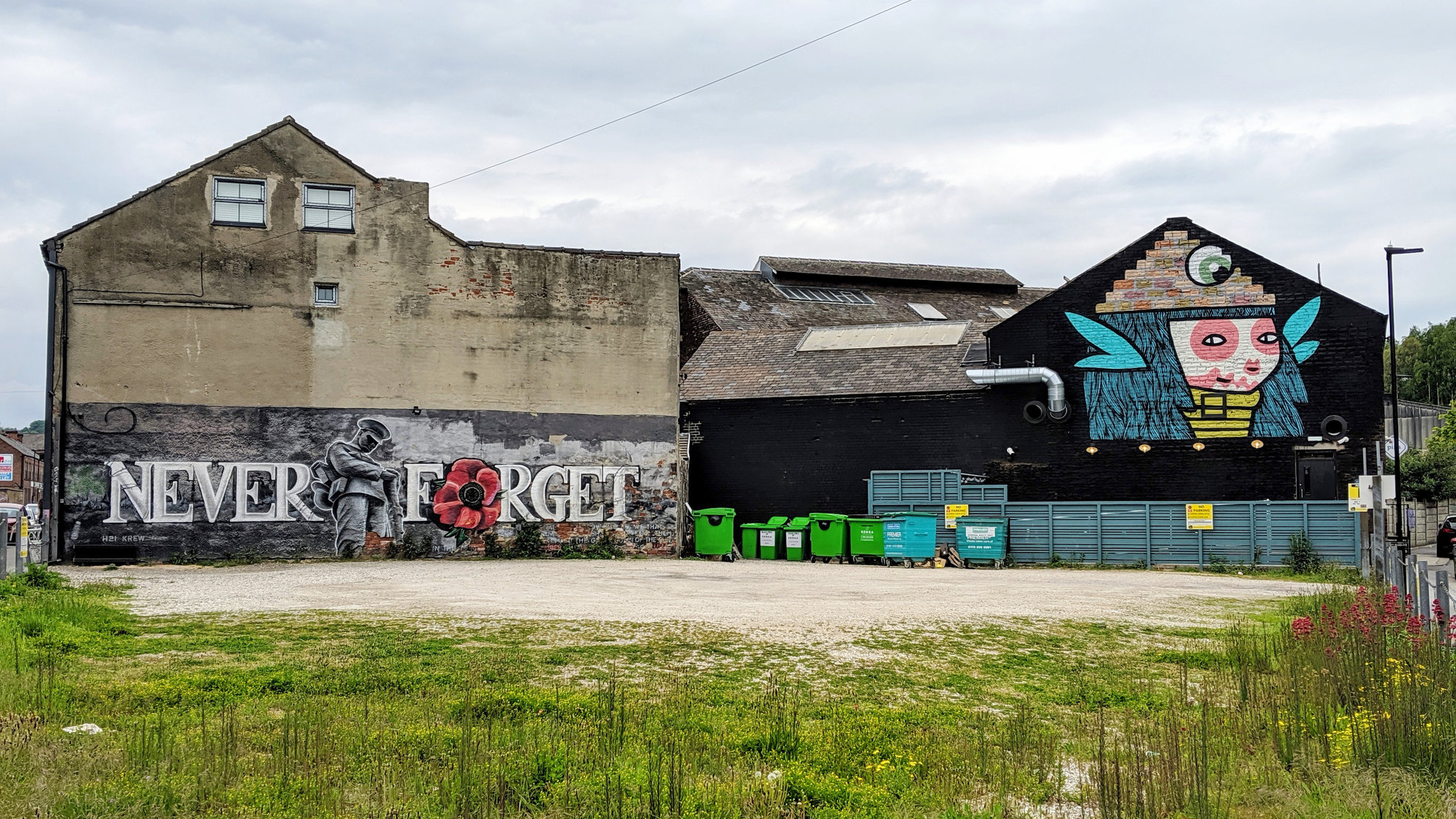 Street Art Sheffield is a website celebrating the Steel City's street art scene. Since 2014, we've been documenting and mapping out the many artworks to be found across the city. These include feature walls, paste-ups, shutter art and painted boardings.
Sheffield is an industrial, green and creative city in the north of England. It can be found in South Yorkshire on the edge of the beautiful Peak District. It is famed for its steel industry, and Harry Brearley invented stainless steel here.
Many will know Sheffield from the hugely successful 90s film, The Full Monty, which depicts the city during the decline of the steelworks. However, the city has since re-invented itself and is home to a large creative community.
Amongst the derelict industrial buildings, the graffiti scene began to flourish. Many now internationally recognised artists like Phlegm, Faunagraphic and Kid Acne started out by transforming these spaces with their art.
Today, street art can be found everywhere in Sheffield. New artists regularly emerge on the scene; and Sheffield has attracted talent from further afield, for example the likes of Nano 4814, Frau Isa, Will Barras and JupiterFab.
Our street art map will help you discover the many artworks to be found in our city. If you're new to Sheffield, or its street art scene, check out our guide to the best areas to find artworks.
Street Art Sheffield is the personal side-project of Andy Carter, a local web developer. The website is an entirely self-funded project; this includes hosting, domain names, backup storage and other expenses. If you would like to show your appreciation of the site then you can buy Street Art Sheffield a coffee. Any money sent will be used to support one of Sheffield's many excellent independent coffee shops.
Please follow us on social media. We regularly share new finds and long lost artworks, as well as updates about this website.
Support Street Art Sheffield
You can show your appreciation of this website by buying us a coffee. As fans of Sheffield's fantastic independent coffee shops and cafés the money will be well spent.
Stay Connected
Timeline
Key moments in the website's history.
2014
Street Art Sheffield is launched.
2016
The website gets its first redesign with a new bigger street art map.
The Herd of Sheffield, a huge art trail of elephant sculptures, is hosted in Sheffield to raise money for The Children's Hospital Charity.
Feature Walls, a week long street art festival takes place in Sheffield.
2018
The artists section is added to the website to make it easier to learn more about the talent contributing to the city's street art scene.
2019
Street artist Phlegm returns to Sheffield with his incredible Mausoleum of the Giants exhibition. People queue for hours to get in and see his show which transforms his usual illustrations into hugh three-dimensional sculptures.
Street Art Sheffield is invited to participate in the 'From Brooklyn Works to Brooklynism?' symposium.
The first Concrete Canvas graffiti jam festival is held on the Sheffield and Tinsley Canal.
2022
The new Street Art Sheffield website is launched.