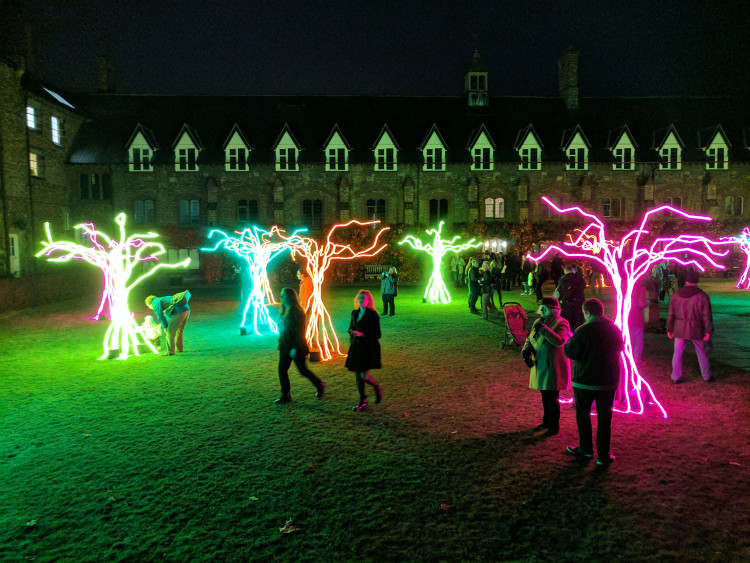 On Saturday we went on our annual trip to York for the city's Illuminating York festival. It's a night time arts festival that runs for several days at the end of October every year which invites artists to use the medium of light. As always it was great fun and there were some amazing things to be seen this year.
A particular highlight of mine was Lumen, David Ogle's forest of light in the grassy Victorian quad of York St John's just outside the city wall. The trees of light created a fantastic sight and it was easy to spend quite some time wandering between them soaking in the atmosphere with everyone.
As always numerous buildings and structures across the city centre were light-up in all sorts of creative ways bringing new life to the old architecture of the city.
My other big highlight of the night was the Locos in a Different Light in the National Railway Museum. The huge exhibition hall containing the many trains they have was transformed using light shows along with sound effects and steam. It created an incredible atmosphere that you felt yourself getting lost in. Every year the NRM seems to put something on, each time a little different but always magical. I look forward to seeing what they do next year.
Also this year the bunny trail returned for its second year. 50 porcelain bunnies with light bulb tails were commissioned and placed around the city centre in shop windows. It's like a much smaller Herd of Sheffield (without a map too so you really had to explore and hunt them down). Here were a few of my favourites…
So that was Illuminating York 2016 and I'm already looking forward to the 2017 festival.