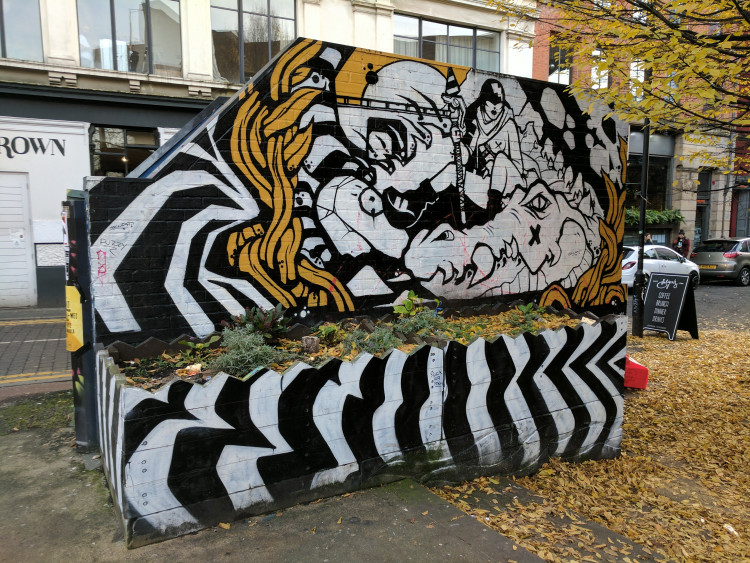 The other week I went over to Manchester to seek out a wall mural painted by Phlegm earlier this year as part of the Cities of Hope festival. Whilst looking for it I found a number of paintings in Manchester's Northern Quarter by some of Sheffield's street artists that I thought I should share here.
There's a couple of Mila K murals to be found at the moment, one on Tib Street (the picture above) and another on Little Lever Street on the side of Twenty Twenty Two. The Tib Street piece is likely to only be there for a little while as this little substation is regularly repainted by different artists.
Another frequently changing set of walls can be found in Stevenson Square in the centre of the Northern Quarter. Currently there are works by Sheffield artists Marcus Method and Trik 9.
Both the Tib Street substation and Stevenson Square are organised by Out House, an outdoor project space for public art in Manchester.
Slightly hidden away on Back Piccadilly is a large painting by Coloquix. Sadly it has been slightly vandalised as otherwise it is a beautiful piece.
Finally, I found the massive mural by Phlegm painted on the side of a former warehouse on Cable Street just north of the Northern Quarter. This is the piece that Phlegm painted for Manchester's Cities of Hope festival. Another impressive piece by one of Sheffield's most famous street artists. A couple of months ago he painted a new mural for Feature Walls in Sheffield.
If you want to see more murals from Manchester's Cities of Hope Festival check out my Manchester's Cities of Hope Street Art blog post from yesterday.