Sheffield's Fantastic Independent Shopping Scene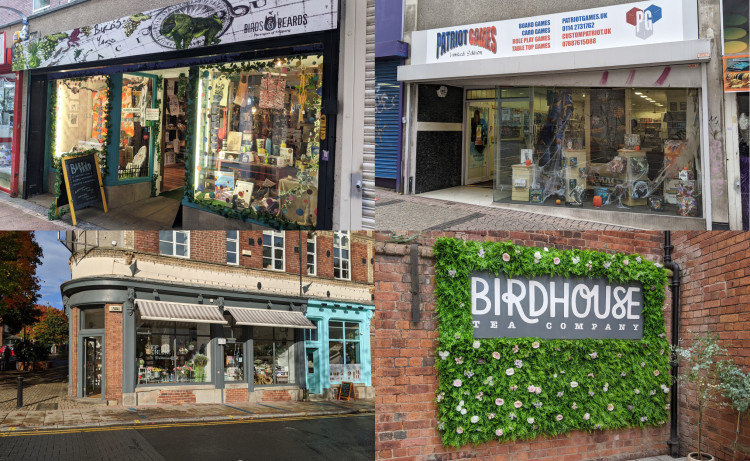 Amazon Prime day is just around the corner, and people are beginning to start their Christmas shopping. Now is a good time to remember that Sheffield has some fantastic independents and they need your support.
There are many great reasons for spending locally. Research shows that when you spend at an independent, more of that money remains in the local economy; there are lots of unique gifts made by local creatives, not available in the big brand stores; and independents are often run by the people who own them, so have a more vested interest in providing exemplary customer service.
2020 has been a terrible year for many of these great local businesses. The lockdown at the start of the year forced them to close their doors to customers. Then the ever changing Covid-19 restrictions have made the trading environment very challenging for them since welcoming us back. Add to that the recession and more and more people shifting their shopping habits online, these shops need us more than ever before.
Sheffield is blessed with independent businesses across the city. Many can be found within the suburbs. There are also plenty to be found within the city centre (and online). Here are some of our favourite city centre independents.
Heart of the City
The very centre of Sheffield is generally dominated by the big chain stores, but there are a few excellent independent businesses dotted around the area. It is also home to the city's largest wall mural painted by Will Rea at the start of the year.
Bird's Yard
This award-winning independent gift shop has been trading from Chapel Walk (just behind M&S) since 2012. Originally set up in Leeds before moving to Sheffield, our northern neighbours loss is most definitely our gain.
The shop is bursting with goods from both local and global designers. Bird's Yard's eclectic stock includes cards, clothing, jewellery, skincare, food and much more so you are bound to find something of interest here.
44 Chapel Walk or shop online at www.birdsyard.co.uk
Sheffield Makers
Similar to Bird's Yard, Sheffield Makers is another centrally located gift shop selling the wares of local creatives. Everything sold here is exclusively made by makers and artists living in Sheffield.
Sheffield Makers well stocked shop can be found just inside the popular Winter Gardens. They also have a second larger store at Hunters Bar.
Winter Gardens, Surrey Street or shop online at sheffieldmakersshop.com
Castlegate
Once the former heart of Sheffield, Castlegate is undergoing a bit of a renaissance at the moment. Lots of interesting independent businesses are setting up shop here, with art supply shop Fred Aldous soon to join them.
La Biblioteka
Independent bookshops are a great way of discovering new things to read outside of the usual bestsellers pushed by the likes of Amazon. La Bibliteka, found inside Kommune, provides an interesting range of books and magazines you've possibly not come across before. If you can't find what you are looking for here, it's always worth asking as they will provide good recommendations or order in what they don't stock.
La Biblioteka won both the Independent Retailer and Speciality Retailer of the Year awards at last year's Sheffield City Centre Retail Awards. Both well deserved wins.
Kommune, Angel Street or shop online at labiblioteka.co
Hop Hideout
Originally trading from premises on Abbeydale Road with a shop front painted by artist Tom J Newell, Hop Hideout is now based in Kommune next to La Biblioteka.
This speciality beer shop sells over 200 local and international beers as well as ciders and organic wines.
Kommune, Angel Street or shop online at www.hophideout.co.uk
Patriot Games
If your idea of board games is Monopoly or one of those disappointing game show tie-ins, then think again. Games have seen a rise in popularity over recent years and led to lots of new titles that are far more fun and entertaining than many of the old classics gathering dust in your cupboard. Patriot Games has plenty of choice for all tastes. If you're not sure what to get, then their friendly and approachable staff will be able to help.
Established back in 1994, this board game shop has recently relocated temporarily to new premises on King Street.
33 King Street or shop online at www.patriotgames.ltd.uk
Devonshire Quater
This trendy quarter is centrally located and home to lots of independent bars, cafés and shops. It is also home to Devonshire Green, one of the few green spaces in the city centre. Street art is also prominent in the Devonshire Quarter with several large murals by the likes of Phlegm, Pete McKee and Tellas.
Moonko
House plant specialists Moonko was established back in 2010 by Debbie Moon and is located on Division Street. Its light and airy store also stocks many other goods from jewellery and ceramics to prints and soaps, all handmade. Many items are made by Debbie herself.
I have huge respect for Debbie, who has worked tirelessly this year despite suffering from long-term Covid-19 effects.
89 Division Street or shop online at moonko.co.uk
Within Reason
Winner of Small Retailer at 2019's Sheffield City Centre Retail Awards, Within Reason is a popular lifestyle shop opposite Devonshire Green. A great place to find gifts for friends and family as well as items for the home.
Within Reason also has possibly one of the best selection of Jellycat toys in the city centre.
144-146 Devonshire Street or shop online at withinreason.co.uk
The Moor
This stretch of town may be dominated by the big high street names, but it is home to lots of independent shops. These include one of Sheffield's oldest independent stores, Atkinson's, a local department store trading since the 19th Century.
Beer Central
The Moor Market is home to dozens of independent businesses, but one of my favourites is Beer Central. This small stall, just as you enter the markets from the main entrance, holds a surprisingly large range of craft beers, real ales, and ciders. Friendly and knowledgeable staff make it a great place to pick up some bottles.
The Moor Market, The Moor or follow Beer Central on Facebook
Wildwood
Just off the Moor is Wildwood, an artisan gift shop and café and winner of last year's Start Up Retailer of the Year award. You'll find some unique gift ideas here, not found elsewhere in the city centre, as well as a decent greetings card selection. You'll get a good lunch in the café here too.
Wildwood's sister company is The Cabin Pancake & Waffle House, a popular spot for sweet treats, just 3 doors down the road.
10-12 Fitzwilliam Gate or check out the Wildwood website
Cultural Industries Quarter
Perhaps not an obvious quarter of the city centre to find shopping opportunities, but there are a surprising number of independent businesses in this part of town. It's also home to some great street art that you can discover on our street art walk around the area.
All Good Stuff
This wonderful treasure trove of gifts created by local artists is easy to miss if you don't know it's there, but is well worth checking out. This gallery shop is based in the Butcher Works on Arundel Street, just opposite Tamper Coffee.
All Good Stuff was set up in 2013 to promote the work of local artists and makers in Sheffield and South Yorkshire. There's lots of great artwork to be purchased here that make fantastic gifts or things to brighten up your home.
Butcher Works, Arundel Street or follow All Good Stuff on Facebook
Birdhouse
Many will be familiar with Birdhouse for its excellent café, but it also has a shop next door (although due to the current climate this is now housed inside the café). Here you can pick up a wide range of locally blended teas for all tastes. They also sell the tools you will need to make the perfect brew alongside other non-tea based local produce.
Of course, if you are stopping by for the shop you might as well stay for a drink or some of their tasty food before continuing with your shopping.
Alsop Fields, Sidney Street or shop online at www.birdhouseteacompany.com
Resist Amazon
Obviously, in the current climate, the opening of these shops is very dependent on the current local and national restrictions, as well as the health of their staff. Many shops are operating on reduced hours. So please check with their websites and social media pages to make sure they are open.
The majority of the shops featured above also sell goods online via their websites; so you can still shop local from the comfort of your own home. Resist Amazon. Shopping online via these independent businesses is just as convenient and you are keeping money within the local economy rather than further lining the pockets of Jeff Bezos.