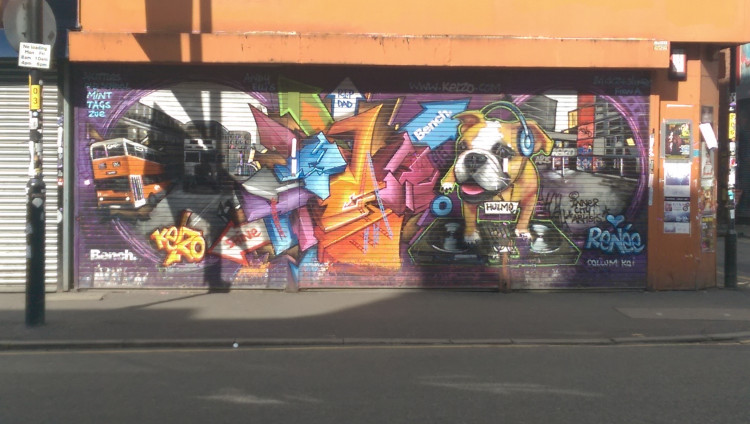 Sheffield is lucky to have a lot of really good street art including many great works by world-class artists including Phlegm and Kid Acne. However, we're not the only place to see top-notch graffiti. Earlier in the summer I took a trip over the Pennines to Manchester. One of my favourite areas of the city is the Northern Quarter, home to some fine street art.
Just off Piccadilly Gardens, the Northern Quarter is a centre of alternative and bohemian culture. It's street art and graffiti frequently change. For example, the Out House public art project located on Stevenson Square changes every three months.
You can find more regularly changing street art on the corner of the Tib Street multi storey car park (on Tib Street).
I personally love the idea of frequently updated public art in predominant locations. Both Stevenson Square and Tib Street are in the heart of the Northern Quarter and there's always a constant stream of people passing by. Sheffield is blessed with some great street art, but it would be good to see something like the Out House project established somewhere central in the city centre.
Around every corner there seems to be more street art exhibiting a varied range of styles from different artists.
If you love your street art and want to see something a little different from what Sheffield has to offer I'd highly recommend a trip over to Manchester and wander around its Northern Quarter. The pictures posted here are just a small sample of what the area has to offer.