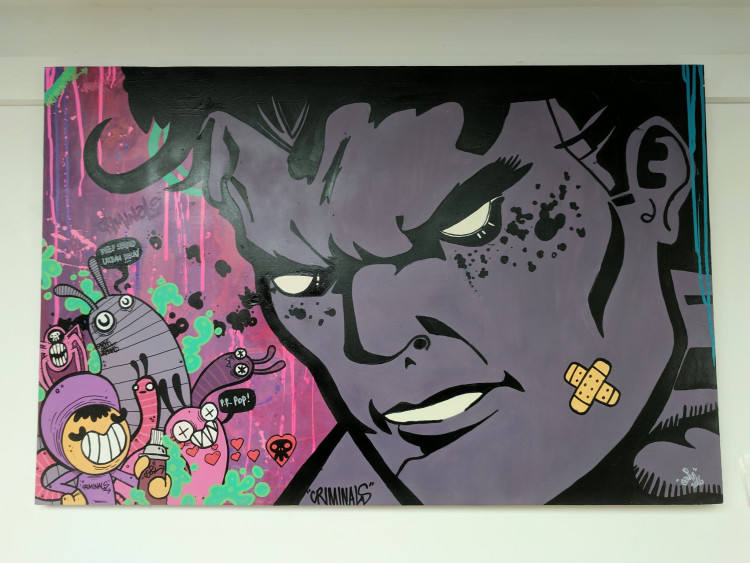 There's a great exhibition of pop art by Gavin Kilcommons in the Art House just off Division Street at the moment. This exhibition has been on for a while, but I finally took some pictures of Gavin's fantastic works the other week and wanted to share them here.
Gavin is responsible for the brightly coloured piece of pop art that can be seen at the top of Backfields on the corner with Caffe Nero on Division Street. Sadly this piece of street art has been partially vandalised by taggers since I photographed it last summer. Just head down this little backstreet and the Art House is about half way down on your right.
His works take inspiration from graphic novels featuring familiar comic book characters like the Incredible Hulk, Astro Boy and Superman.
I particularly liked his two Astro Boy pieces hanging on the walls in the café.
His colourful artwork uses mixed media and has a familiar vibe to some street art. There's a great deal of detail in the pieces, with busy backgrounds full of quirky characters.
This graffiti character pops up in many of the works on display:-
If you're in Sheffield city centre I'd recommend checking out this little exhibition as the Gavin's work is fantastic and looks much better in person than viewed as some photos on a website. I hope that it is still on for people to check out (I'm not sure how much longer they will be hung on the café's walls). While you're there I'd recommend stopping for a drink and some homemade cake. They serve teas from the local Birdhouse Tea Company and for a very reasonable price.