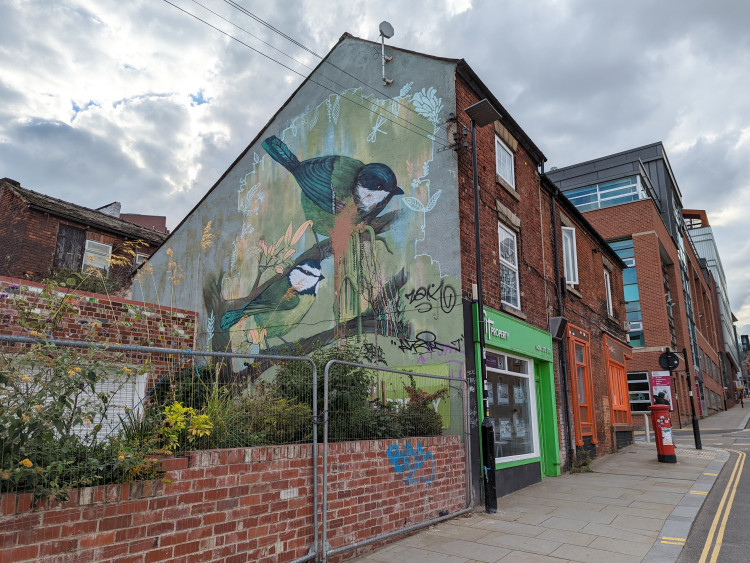 It's been five years since Faunagraphic created her beautiful mural on Charles Street. However, it has sadly seen better days and in recent years become defaced. Despite this, it remains a much loved artwork and has proven popular on our street art tours.
Over the last few years, Faunagraphic has received many requests to repaint the mural. She has now set up a crowdfunder to raise money for a new artwork. The monies raised will contribute to the artist's time, a new design and materials. Creating a large feature wall like this is not cheap.
Faunagraphic has created many popular murals across Sheffield. Her love of nature feeds into her artwork which lends itself well to Sheffield's Outdoor City image. One of her most recent contributions to the city's street art scene is her incredible fox mural in Meersbrook Park.
The existing mural on Charles Street is centrally located in the Cultural Industries Quarter. This part of the city centre has long been home to many great artworks. Over the summer, several new pieces have been created by the likes of Zoe Genders, RUN, Kid Acne, Enso and a collaborative piece by Jo Peel and Mark McClure. We'd love to see Fauna's mural refreshed with a new piece by the artist to add to these and we're sure many will share that sentiment.
Please, if you can, help contribute to the funds for Faunagraphic's new feature wall; and spread the word about the crowdfunder on social media and amongst your friends and associates. Let's help enable Fauna to make this happen!
If Fauna is able to raise the money needed, she plans on completing the new artwork by the end of October 2022.