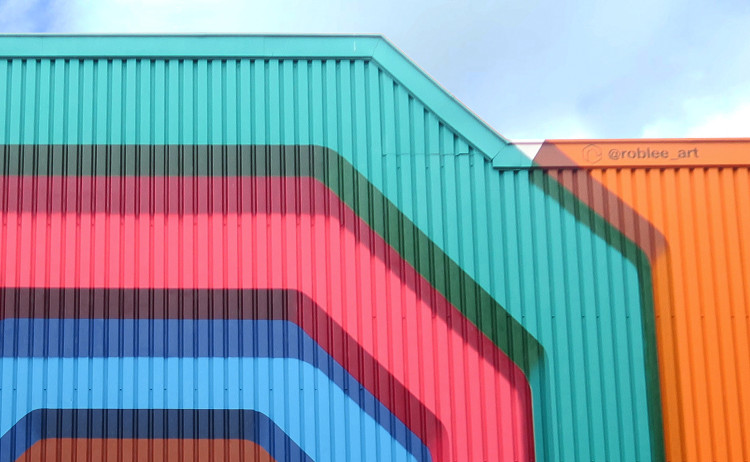 Sheffield-based artist Rob Lee has finished work on a large new artwork for Kirkgate Market in the centre of Leeds. Named '#Welcome', it was commissioned by Leeds City Council to transform the New York Street entrance to the market.
If you live in Sheffield you will be familiar with Rob's work. His brightly coloured optical illusions can be found right across the city. These include his popular 'Now Then Then Now' mural which greets people walking into the centre from the train station, and his colourful artwork on the side of Picture House Social on Abbeydale Road.
For his latest piece Rob took inspiration from the surrounding buildings and the many colours to be found within Kirkgate market; further inspiration came from his love of modernist and brutalist architecture. Originally designed at the end of last year, it was officially selected by Leeds council at the start of 2020.
Rob started work back in March, just as the government put the country into lockdown due to the Coronavirus pandemic. Work had to be put on hold, but Rob returned to Leeds at the end of May to continue painting the entrance way. '#Welcome' is now complete and looks amazing. The New York street entrance is one of the main ways in and out of the market, so his work will be seen and enjoyed by many.
Many thanks to Rob for allowing me to reuse his photo of his mural on this website. Sadly I've not yet been able to travel up to see it in person, but I look forward to seeing it one day in the future.
You can follow Rob on Twitter @roblee_art and Instagram @roblee_art.