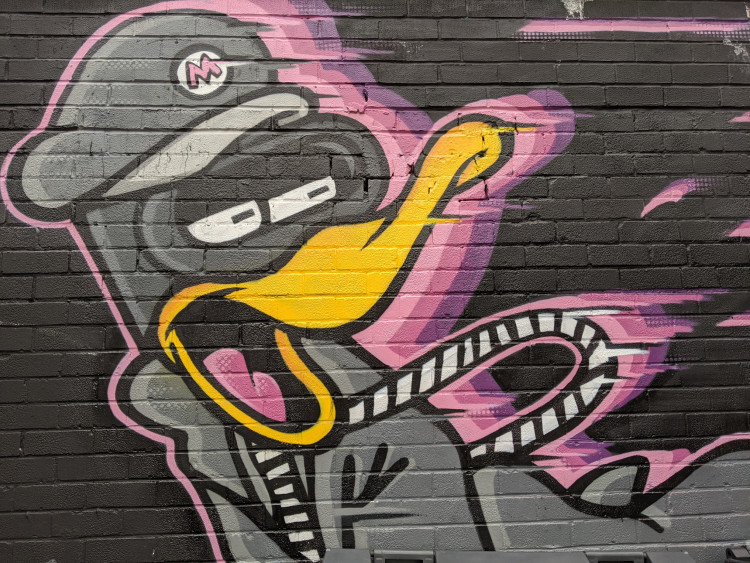 At the beginning of March I took a trip down to Nottingham to see how the street art scene had changed since my last visit (which admittedly was far too long ago). Now several weeks into the pandemic triggered lockdown, it almost seems like I imagined travelling outside of Sheffield so recently to another city.
The last time I was in Nottingham hunting down street art, Hockley next to the famous Lace Market area, proved to be a good starting point for discovering some of the city's scene. So it's here that I headed first, before crossing east into the neighbouring Sneinton Market. Both areas form part of Nottingham's Creative Quarter.
Hockley
Described as the "Soho of Nottingham", Hockley is home to many independent bars, restaurants and trendy shops. There is a youthful vibe to the area and lots of street art to be found down the numerous side streets and building ends.
Unfortunately, the tree was somewhat in the way of this large mural outside the Broadway Cinema, but I love all the colour and different imagery going on in this piece:
This Charlie Brown mural is by Sorry who has previously contributed to Sheffield's street art scene:
One of my favourite discoveries on my previous trip to Nottingham was the work of local street artist Kid30, so I was really pleased to find more of his artwork on this visit. Kid30 mashes together familiar cartoon characters to create comical and colourful new creations like this one:
The Mario-Bender-Daffy Duck mash up at the top of this post is another of Kid30's murals found in Hockley.
Sneinton Market
East of Hockley and across Lower Parliament Street is Sneinton Market. The buildings of the former open-air public market have started to be brought back in to use for small independent cafés and stores. Nottingham's Montana graffiti shop is based in one of these units, so it shouldn't be a big surprise to find more street art around here. There was a lot of decent graffiti to be found on the boardings along Bath Street next to the markets.
Finally, a couple more Kid30 pieces that I found in Sneinton Market. I'd love to see him come and work his magic on Sheffield's streets one day.
All photos were taken at the beginning of March 2020 before the UK government introduced the lockdown restricting movement to slow the spread of Corvid-19. Whilst the world is tackling the spread of this nasty virus please follow the official advice to practice social distancing and stay at home. Once it is safe to go out and about again, Nottingham is definitely worth a visit for its street art scene. However, the most important thing right now is that we work together to protect lives and the NHS.
Stay safe.