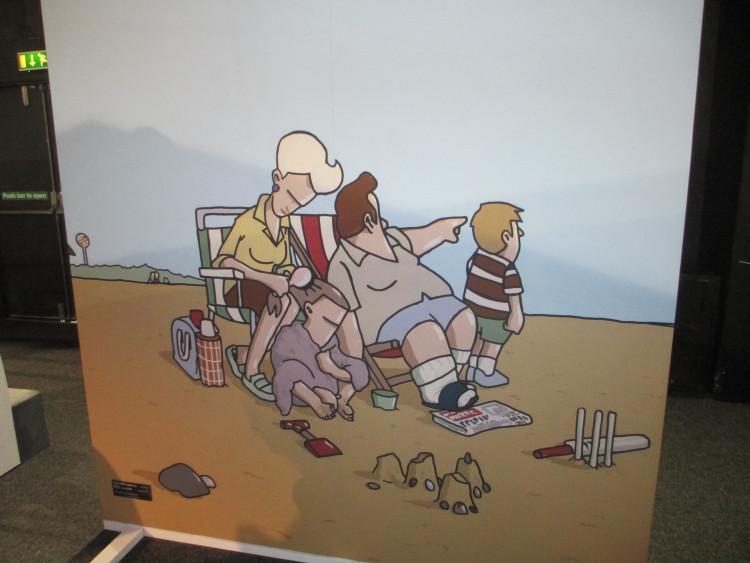 Yesterday afternoon I headed over to Magna in Rotherham to see Sheffield artist Pete McKee's latest exhibition 6 Weeks to Eternity with my partner. It's his largest exhibition to date and was definitely worth the trip. It's only on for two days (14th and 15th May) so if you're reading this on the morning of the 15th and haven't been yet, get over there quick!
The show is about our memories of school summer holidays and the exhibition hall is split into two sections: Estateville and the seaside.
Pete's artwork in Estateville focuses on spending the holidays at home from kicking a ball about, lazy mornings in bed to a trip to the local working men's club on Sundays. In between his paintings and models are some full size sets including a messy teenage bedroom, a living room complete with television skipping between classic children's shows and a pub where you could sit with a crisp butty and bitter (real ale was on sale).
On the other side of the hall is the seaside complete with games arcade, helter-skelter and deck chairs. There's also a real caravan set up with full size models of Pete Mckee style children peering out of the windows whilst a table scattered with half played games stands between them; I think this was possibly my favourite of the large scale models as it reminded me of my younger days holidaying trapped in the confines of a caravan peering out hoping for the persistent rain to cease.
Much like the last exhibition of Pete's we went to see, when he converted the upper floor of his Sharrow Vale gallery into a record store, he's managed to create a unique and extremely fun exhibition. There's a lot of wonderful new works on display, with witty captions, and seeing his creations turned into life sized models is fantastic. Such a shame that this show is only on for two days as many will likely miss it.
Thanks Pete for making us smile; and rediscovering the joys of whirling down a helter-skelter!