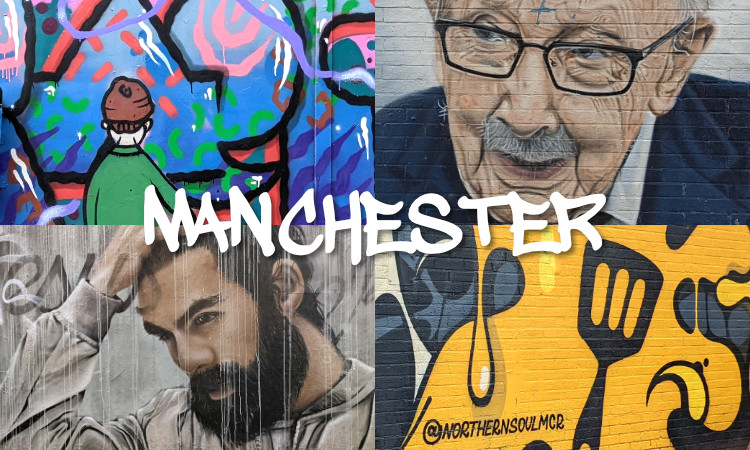 After a very long break from visits due to the pandemic, we were back in Manchester last weekend. The city's Northern Quarter has always provided a good hunting ground for street art, so we were happy to finally be back. There were lots of new murals and quirky paste-ups for us to discover.
Stevenson Square
At the heart of the Northern Quarter is Stevenson Square. Since our last visit, the square has been closed to traffic creating a fantastic space for people instead of cars.
Leeds-based artist EV Hardaker recently transformed the square with her artworks covering the former public toilets, the road surface and even the redundant road signs. This is all part of the Outhouse Project, sponsored by Fred Aldous, which sees several key locations in the quarter get refreshed with new artwork every 3 months.
On the far side of the square, is a fantastic portrait of creative director Ste Wing by local artist Akse. It was painted as a celebration of their shared Vietnamese roots and for the 50 Windows of Creativity project.
Akse is one of our favourite Manchester based street artists. He's renowned for his photo-realistic portraits and regularly paints in the Northern Quarter.
Tib Street
Another fantastic mural by Akse can be found at the top of Tib Street on the substation. This is the artist's tribute to Captain Tom.
Captain Sir Thomas Moore gained international headlines during the pandemic for his fundraising efforts on the lead up to his 100th birthday. Akse's beautiful portrait also gained lots of media coverage. It was good to finally see it in person, although sadly it has succumbed to some tagging on one-side of the mural.
Further down Tib Street is a colourful mural for Northern Soul Grilled Cheese, an excellent eatery just opposite.
Qubek's mural of a field of poppies can also be found along this stretch.
Dale Street
There's lots of great street art along the boardings on Dale Street. These were challenging to photograph as there were a lot of people walking passed, but we were lucky to manage to get some clear shots.
Thomas Street
From shop shutters to boardings, Thomas Street is looking very colourful at the moment.
Off Thomas Street we spotted this incredible tiger mural by Otto Schade, a Chilean artist based in London. There were a few other animals by this artist around the corner, but sadly the light was no longer good enough to get decent photos. Hopefully we'll be able to check these out on a future visit.
Paste-Ups
Next week, we'll share some of our favourite paste-ups from our trip. In the meantime, you might want to check out our previous blog posts about Manchester's street art scene; or checkout the excellent paste-ups we've found here in Sheffield.
Getting there
The scenic train journey from Sheffield to Manchester Piccadilly is about 50 minutes. The Northern Quarter is then a short walk from Piccadilly station.