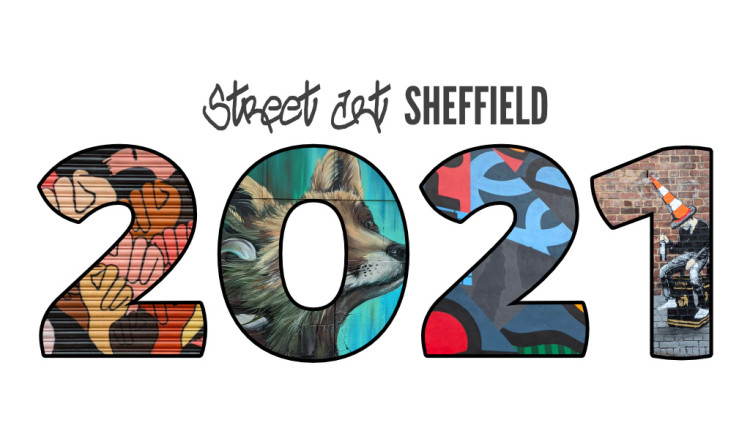 With 2021 coming to an end, we thought we'd take a look back at the year. It's been a good one for Street Art Sheffield. We've captured more artworks this year than in any of the previous seven years of the website. We found a few older pieces we'd missed before, but the majority were new works created in the last 12 months.
Feature Walls (and Controversy)
Sheffield saw several new feature walls get painted in 2021. However, many of these proved to be controversial due to their commercial messages.
Tom J Newell continued his collaboration with Guinness with two new murals: one on the side of The Grapes, and the other at the back of the Frog & Parrot.
Marcus Method created the colourful 'Domin-Oh-Hoo-Hoo' mural on London Road. However, not everyone appreciated it due its association with Domino's Pizza. A month later the branding was removed and we were left with just a fantastic feature wall.
Sadly, Marcus Method's piece didn't last long and was replaced by a mural for fashion brand Flannels. This new piece also split opinions, but as a piece of artwork we loved it. Sadly, it didn't last long before it was painted over (such is the nature of many corporate murals).
We had a look at the rise of commercial street art in a blog post in response to people's reactions to the Domin-Oh-Hoo-Hoo mural.
Not all the feature walls carried commercial messages. 2021 saw the return of Faunagraphic with a new artwork in Meersbrook Park. This piece proved very popular on social media.
Faunagraphic originally made a name for herself in Sheffield. Her work can now be found worldwide. It was nice to have her back in the Steel city.
A new mural from illustrator Kunstity appeared on the rear of The Washington pub.
New and Visiting Talent
It's always exciting to discover new artists contributing to our local street art scene. 2021 introduced us to several new names.
Game Over, a self-proclaimed 'Banksy on acid', really started to make their mark early this year. We loved their 'Gone Fishing' piece off Sharrow Vale Road.
We also discovered street artist Marquis De Rabbit. Their 'Wino' mural on the side of the Dog & Partridge pub was a huge hit with our followers.
Abstract painter, Kieran Flynn, picked up painting during the lockdowns. This year, he took to the streets contributing to the ever growing Kelham Island Arts & Cultural Heritage Trail.
In 2021, Sheffield attracted some fresh outside talent to its streets. Two notable artists for us were London-based Nathan Bowen and Nottingham's Kid30.
Bears of Sheffield
Over the summer months, Sheffield hosted the Bears of Sheffield, a large sculpture trail raising over half a million for the Children's Hospital Charity. Sixty large bear sculptures, and 100 smaller bears, were placed across the city. Each featured a unique design by both local and national talent.
Favourites of ours included V J Patton's 'Steampunk Bear' and Pete McKee's 'Thank You Sheffield's Children's Hospital'.
Concrete Canvas 2021
Concrete Canvas made a welcome return to the Sheffield-Tinsley canal. The mini street art festival, which began in 2019, was due to return last year, however the pandemic delayed this. Contributors included Trik 9, Peachzz, Stog and Fem Sorcell.
Awards
Although created last year, Jo Peel's 'Growing City' and Will Rea's 'Workings of Sheffield' murals both won awards in 2021. Jo's mural on Brown Street received the Keith Hayman mural award for 2021. Will's large artwork in Orchard Square won the Keith Hayman mural award for 2020 and a prestigious World Illustration Award.
2022
2021 was a really exciting year for Street Art Sheffield. It was great to see so many new pieces get painted, sprayed and pasted-up around the city. Seeing old favourites return to the city and new emerging talent has kept the local street art scene remain buzzing. We're now looking forward to seeing what 2022 brings.
Have a happy new year everyone!