The Rise of Commercial Street Art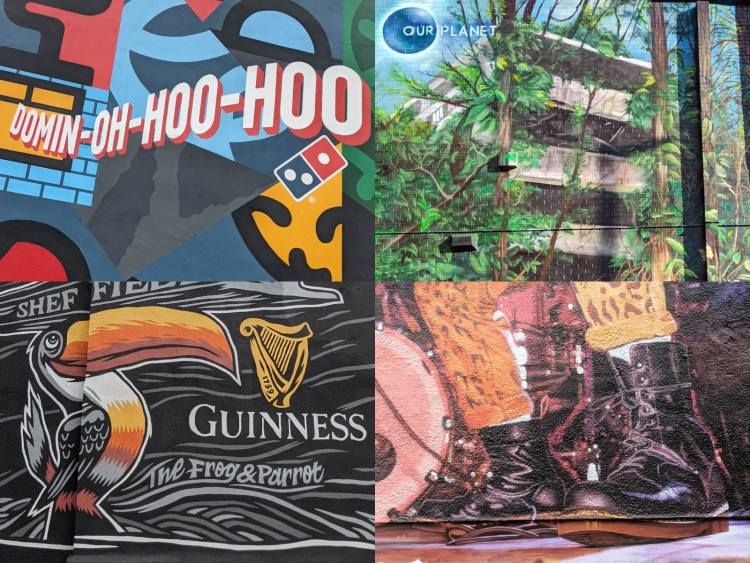 A week ago, Marcus Method completed his latest feature wall, the Domin-Oh-Hoo-Hoo mural. His new work is one of his largest murals in Sheffield. It is easily spotted by anyone travelling out of the city centre via London Road.
The mural features Marcus Method's trademark colourful shapes and patterns. It's a fun and vibrant addition to Sheffield's street art scene. However, not everyone is happy with this new mural. It's not because people don't like Marcus's work, he remains one of the most popular street artists in Sheffield. The issue comes from who commissioned the artwork. You see, this latest wall is sponsored by Domino's who's branding is incorporated into the work. Basically it is an advert disguised as street art.
The Domin-Oh-Hoo-Hoo mural isn't the only piece painted in Sheffield as a form of advertising. At the beginning of the year, new murals by Tom J Newell appeared across the city centre featuring the Guinness branding. Interestingly, these didn't receive the same sort of complaints from people on social media. Perhaps this is in part because the classic Guinness branding has become part of popular culture, particularly the Guinness toucan which dates back to the 1930s,
We've also had walls painted for Dulux and Bulmurs. Neither have drawn much negativity when I've shared these on social media. The Dulux piece was fairly subtle, the brand name didn't feature on the mural. The Bulmurs artwork was on a beer garden wall. Perhaps people are more comfortable if the artwork fits the location? The Domino's mural is not near one of their stores and is on a street full of independent restaurants and takeaways.
Advertisers have been keen to utilise the growing popularity of the street art scene.
Across the Pennines, over in Manchester, street art as a form of advertising has become a common sight. On Newton Street, a giant mural of a Blue Tit has welcomed people into the Northern Quarter for the last decade. It is a hugely popular artwork, photographed and shared online countless times by people. This beautiful piece is the creation of Faunagraphic. What many don't realise is that it was commissioned by the fashion brand Converse. Look to the bottom of the mural and you can clearly see Converse's logo.
Other commercial street art in Manchester has included advertising for Sainsbury's, BBC iPlayer, Dr Martens and Netflix among others.
In our digital age, it may seem perverse that brands are looking to street art for promotion. Each mural has to be hand-painted, which takes time, and cannot be easily replicated across sites. However, with social media fast overtaking traditional media outlets, people are quick to photograph and share these painted walls. As a result, the advertising gets organically shared online and doesn't get hidden away from people browsing with ad blockers.
In 2019, Jim Vision created a large mural to promote Netflix's Out Planet in Manchester. It was a hugely popular mural, and one of several similar works he created across the UK. People were keen to capture the mural and share photos of it on Instagram and Facebook, often posing in front of it. A perfect example of how these adverts get organically (and quickly) distributed online despite the source being restricted to a single wall.
For artists, commercial street art can provide a valuable source of income. It can also give them opportunities to paint much larger works than may usually be available to them. Brands are often keen to make use of these artists' individual styles. Works like Marcus Method's Domin-Oh-Hoo-Hoo mural and Faunagraphic's Blue Tit mural in Manchester are distinctively their works.
Love it or hate it, brands are increasingly showing an interest in street art. Based on what is happening in other cities, like Manchester, we're likely to see a lot more murals cropping up in Sheffield promoting one brand or another.
I am personally in two minds over brands commissioning these artworks. On the one hand it is great to see new large feature walls getting painted. On the other, it concerns me what these walls could mean in the long run for the street art movement. There is always the danger that these adverts saturate the scene eventually leading to a decline in people's enjoyment of street art.
Thankfully, for now, Sheffield's street art scene is still in a healthy position. New works continue to be painted and commissioned for the sake of art and without the need to deliver a brand's message. We are also seeing new talent emerging taking more traditional routes into the scene.
As for Marcus Method's piece. I personally like the mural, even if perhaps its position could have been better, but that was presumably outside of the artist's control. I am sure we will see more of his works appear across our city in the coming months, and like much of his previous output, it won't be to represent a big brand. I look forward to seeing what he creates next!