Discovering Norwich's Vibrant Street Art Scene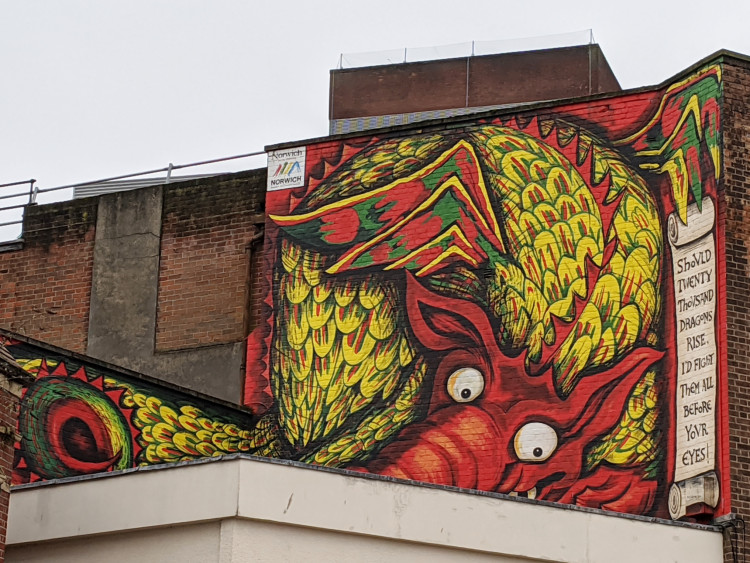 A couple of weeks ago, shortly after Christmas, we visited the beautiful city of Norwich to take my little niece and nephew to the pantomime. I hadn't been to Norwich for many years, so what surprised me on this visit was the abundance of street art.
Norwich is probably best known for its huge cathedral, large permanent outdoor market and medieval castle; as well as the likes of Colman's Mustard, Alan Partridge and Delia Smith. However, the city appears to have been developing a vibrant street art scene amongst its historic streets in recent years.
A lot of street art can be found in the area known as the Lanes located just north of the market square. This area is home to many interesting little stores, eateries and coffee shops. We stopped for a great cup of coffee at a place called Strangers on Pottergate (which I'd highly recommend). Just opposite the café was this fantastic Banksy-like artwork raising awareness of homelessness.
Norwich claims to have the largest six-days-a-week open-air market in England, located in the heart of the city. It's well worth exploring, although I can imagine on a busy day it could become difficult to navigate. There's a lot of diversity amongst the stalls and plenty of tempting street food vendors to be found here. We enjoyed a very tasty lunch from the market.
Also hidden amongst the stalls are numerous murals boosting the city's street art offering.
Perhaps Sheffield could learn a thing or two from Norwich's approach to street art. Norwich BID are behind numerous large wall murals across this East of England city and the local council appear to have a positive attitude to street art.
Overall, we had a fantastic time in Norwich. Despite the sky being overcast the weather was good and there was lots to see, especially for fans of street art. Plus, the pantomime, Cinderella, was great fun and thoroughly enjoyed by the whole family (especially my niece and first-time panto-goer nephew). Hopefully we will get a chance to return to the city in the not too distant future to explore more.