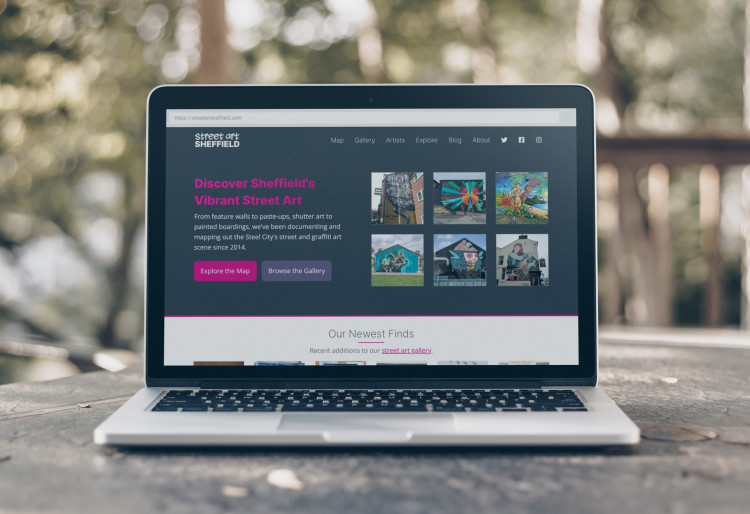 Since its inception, Street Art Sheffield's primary aim has been to raise awareness of Sheffield's street art scene and encourage people to explore it for themselves. Today, we've launched the biggest update to the website since it launched over 7 years ago. The focus of the new design has been to make exploring Sheffield's street art even easier.
The map
Our street art map has been given a big overhaul.
We've added so many artworks to the map over the years that it was beginning to become overcrowded. To tackle this we've set up hotspots to highlight where there are clusters of street art. Clicking on a hotspot will zoom you in to that part of the map to show the individual locations of the artworks.
We've also added more information to the map when viewing an artwork, including more images.
The gallery
Our gallery is our main archive of artworks. This is where you have always been able to find both old and new pieces. We've made lots of improvements to this section of the site. One of the main changes is that we've properly integrated it with the map.
Now when viewing an artwork, if it's on the map you can click 'Show on Map' to be taken straight to our street art map with the location highlighted. You can also get directions to artworks from here via Google Maps.
We were also keen to highlight what artworks are near to each other to help you find more. For most artworks you will now find a 'Nearby' section towards the bottom of the page showing the closest pieces to the artwork you're currently viewing. This will hopefully make it easier for you to go out and explore Sheffield's street art scene for yourself.
The artists
Over the last four years we've been building up an artists directory on the site. This is a list of the talented folk we've found contributing to Sheffield's scene. We now list well over 100 artists.
The directory has been updated so that it is more clearly laid out and paginated. This makes it more manageable to browse the names. On the landing page we now feature more of our favourite artists; and we've also added the ability to search by name.
The neighbourhoods
New to the site is our Explore Sheffield's street art scene page. This is intended as a beginners guide to the neighbourhoods where you can find some of the best street art. Whether you're new to Sheffield, or just developing an interest in the artworks that brighten up our streets, this is a good starting point.
You can still find a full list of areas on our neighbourhoods page. Similar to our artists directory, the neighbourhoods are now searchable.
Go explore
Whether you plan on hitting the streets of Sheffield, or just plan on browsing this site, we hope these improvements will make discovering the city's street art even easier.