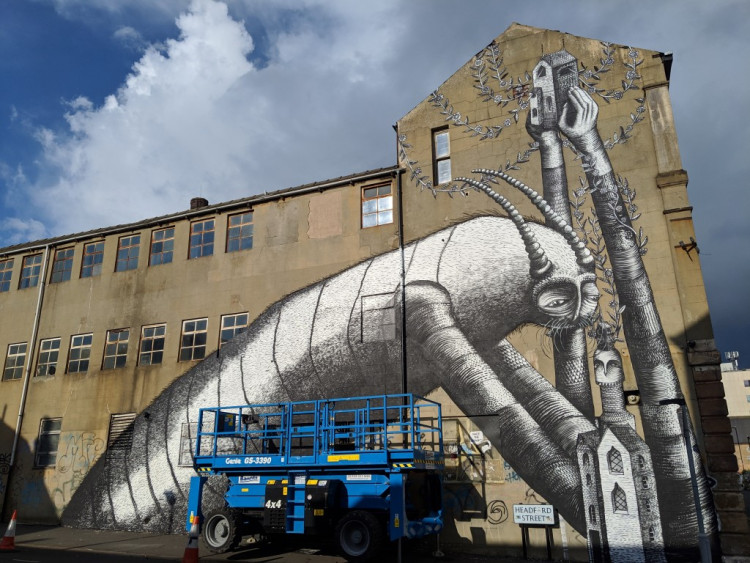 Phlegm's Mausoleum of the Giants has closed, his giants finally put to rest. It has easily been one of the most remarkable events that Sheffield has ever hosted. Who could ever have imagined people queuing for up to three/four hours for an art exhibition in our city?
Over recent years interest in street art and its associated artists has been growing. The popularity of Phlegm's street art must have been a major influence on the success of the Mausoleum of the Giants exhibition. Street art bloggers and photographers from across the UK and further a field were among the many visitors who travelled to see Phlegm's creation. Thousands of people went through the doors at the old Eye Witness building to see the giants.
Another successful local street artist, Kid Acne, attracted more than 50,000 visitors to his Kill Your Darlings exhibition back in 2011 (it had higher visitor numbers but had a much longer run).
Street art has long been a big thing in Sheffield and has helped develop talent like Phlegm and Kid Acne to make them well known names beyond the steel city. However, Sheffield is undergoing a major transformation at the moment. The derelict buildings and plots of land that have provided the space for these artists to hone their skills are disappearing. Old walls are being replaced by new ones, less welcoming to the huge murals that have become so popular here.
So the question is, what's next for Sheffield? How can be ensure our street art scene continues to thrive? What could be done to provide the space needed and encourage new talent to paint our city?
Expanding on the Kelham Island Heritage Trail
Since 2017 exchange boxes in Kelham Island and neighbouring Neepsend have started to be transformed into colourful creations. Local artists including James Croft, John Wilkinson and Simon Wigglesworth-Baker have been painting these otherwise bland boxes to create a new art trail in the area. It's all part of the Kelham Island Arts & Cultural Heritage Trail. This part of Sheffield has played an important part in Sheffield's industrial past and one of the aims of this art project is to create a reminder of the quarter's origins.
I have come across similar schemes in other cities. For example, the Dublin Canvas project has been annually painting traffic boxes across the Irish capital to bring a splash of colour to an overwise boring feature of the urban landscape. It's an inclusive public art project. Anyone over the age of 18 can submit an idea and if selected get allocated a box to paint during the summer months. It's a beautifully simple idea. When I visited the city last year I found painted boxes all over the city, from central Dublin and right out into the suburbs.
As Sheffield's city centre continues to be redeveloped and once acceptable locations for street art get lost there will always be an abundance of these street boxes. These cabinets are often targetted with unwanted graffiti tags; turning them into pieces of colourful artwork can help discourage this anti-social behaviour. So perhaps Sheffield should expand on the great project being carried out in Kelham Island and take some inspiration from Dublin.
Out House Sheff
Out House is a fantastic street art project over the Pennines in Manchester's Northern Quarter. It sees three blocks in Stevenson Square and a substation down the road on Tibb Street get transformed by both local and international artists. This has included some recognisable Sheffield talent like Marcus Method, Trik 9 and Mila K who painted the blocks back in 2016.
The aim of the project is to rework each block every three months. So the artwork is always looking fresh and forever changing. It also gives people like me a reason to regularly visit to check out the latest creations. For a fan of street art this is a big draw.
I personally would love to see a similar project established in Sheffield, an Out House Sheff. I'm not sure where this could be set up, but ideally it would be located somewhere central with a decent footfall. Both Stevenson Square and Tibb Street in Manchester are a hive of activity, so the public artworks get seen by many. They are also in an area surrounded by independent businesses that support the project and get custom as a result of the street art on their doorsteps. So perhaps for Sheffield it would want to be in the Devonshire Quarter or possibly the Cultural Industries Quarter (it's been undergoing a bit of a transformation of its own recently). Both areas have long had a reputation for being centres of excellent street art within the city.
Feature Walls II
In October 2016 a week long festival of street art was held across the city centre. It provided a fantastic opportunity for people to see street artists at work. Feature Walls brought both local and international talent to the city to paint large scale murals, many of which can still be seen around Sheffield today. Artists included the likes of Nano 4814, Roid, Frau Isa and our very own Phlegm.
Street art festivals can be found all over the world and are hugely popular events. For example, Upfest in Bristol has been running for ten years now attracting hundreds of artists and over 50,000 visitors from around the world each year. Not only is this great for street art, but also for the local economy of the host city. Many people will travel to see a street art festival like this which means hotel bookings, as well as custom for local cafés, bars and restaurants. A further benefit of street art festivals is that many of the murals remain long after the event has ended resulting in continued tourism.
Back in 2016, the same year as the original Feature Walls event, a report on art and culture in Sheffield recommended a large street art festival to rival the likes of Upfest. Feature Walls felt like the start of something that should return and grow. It's a shame that three years later it remains a one-off event. Perhaps now is the time for people to start pushing for its return after the huge success story of Phlegm's giants.
Final Thoughts
Sheffield has an amazing street art scene and is an incredibly creative city. We just don't always do a great job of promoting it.
Phlegm's Mausoleum of the Giants showed that we can put on a big show and tell the world about it. We need to continue what was started with this exhibition and let those outside of Sheffield know how great our street art is. We also need to help enable artists to continue contributing to it. It was recently reported that tourists spend £1.2 billion a year in Sheffield. Expanding on our Street art could definitely help boost that, encouraging people to visit and explore our city.
I love this city and its creativity. I have been running Street Art Sheffield as a side project for almost five years now. My contribution to promoting Sheffield's street art may be small, but I will continue to do my bit to celebrate what we've got and champion the scene.
You can follow Street Art Sheffield on Twitter @streetartsheff.