Sheffield's Best Street Art of 2022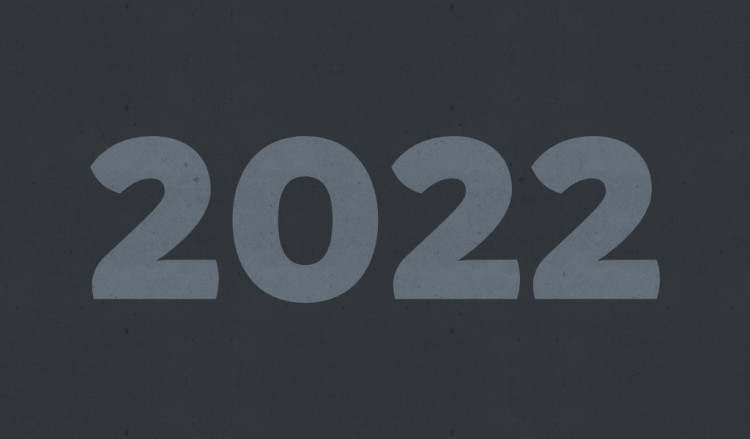 At the end of last year, we published our annual Year in Review. It really highlighted to us how fantastic the last twelve months had been for Sheffield's street art scene. So many incredible artworks were created in a variety of styles and taking inspiration from numerous sources. We were keen to learn what our followers' favourites were.
Over the first week of 2023, we've been asking you to vote on the best new street art of the last twelve months. The results are now in.
About the poll
Before we commence the countdown of your ten best artworks of 2022, we want to make some comments about the poll.
We started by looking over all the artworks created last year and whittled it down to just 22. This was no easy task. There were a lot of fantastic pieces created last year. To simplify our task, we tried to restrict ourselves to those that have the greatest chance of longevity. This sadly meant a lot of amazing graffiti pieces were excluded.
The poll was opened at the start of this year and kept open for a little over a week. This allowed time for a healthy number of people to vote and gave us some interesting numbers to crunch. It has been a closely run race, with those in the top ten constantly changing their positions. All the artworks received multiple votes, so clearly all had their fans.
Here are your top ten of 2022.
Number 10 – Game Over, The Bear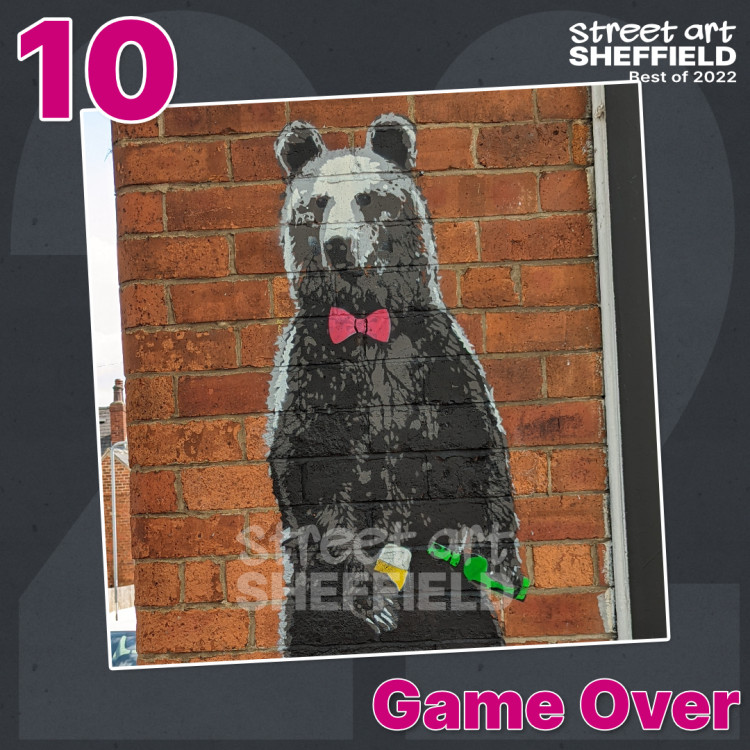 We start the top ten with Game Over's small mural for The Bear on Abbeydale Road. This is a fun piece that was created during spring. We love the little bits of colour in this artwork, like the pink bowtie and the golden beer in the glass being poured from a green bottle.
Number 9 – Jo Peel, Chaucer Yard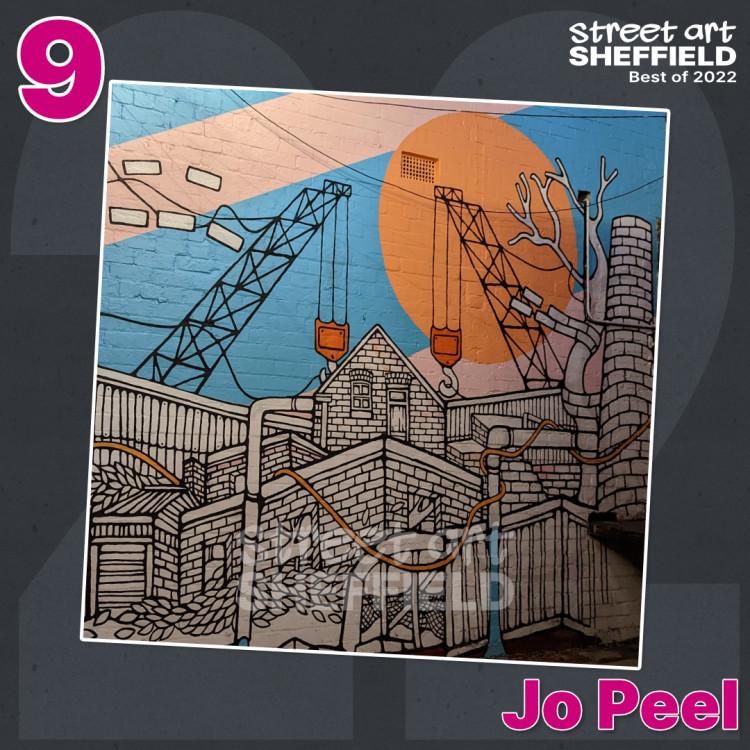 In ninth place we have the first of two murals by local artist Jo Peel. This particular artwork is hidden away inside Chaucer Yard, not far from Bramall Lane. It features her familiar theme of a cityscape being transformed, with cranes in the background.
Number 8 – Caroline McWilliams, Neepsend Lane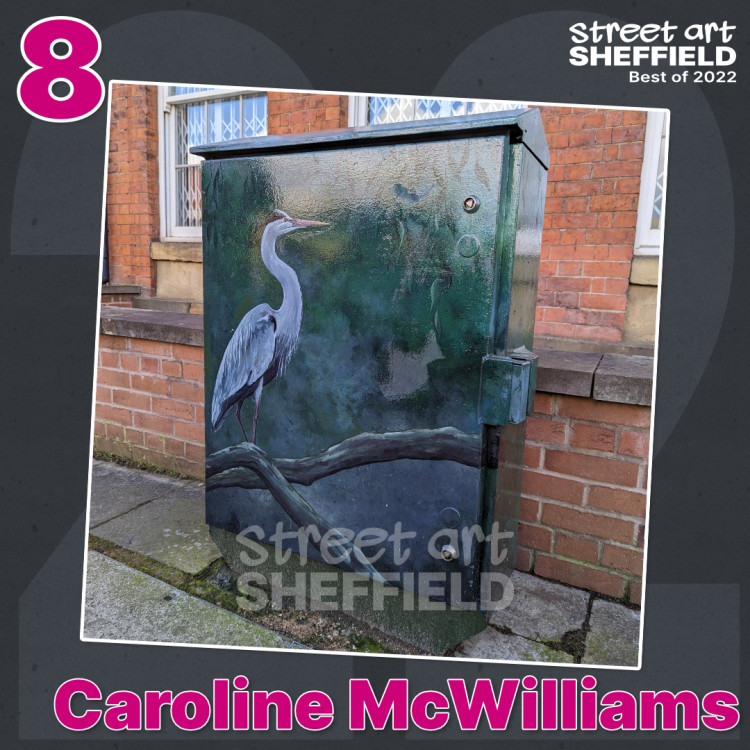 Caroline McWilliams' 'Fishing On The Weir' was a new addition to the growing trail of painted utility cabinets around Kelham Island and Neepsend. This artwork features a beautifully painted heron perched on a branch. It is located on Neepsend Lane, not far from another painted cabinet by the same artist.
We love that Caroline's artwork made it into the top ten. It is very different in both scale and style from the other artworks that feature on the list.
Number 7 – Kid Acne, Unit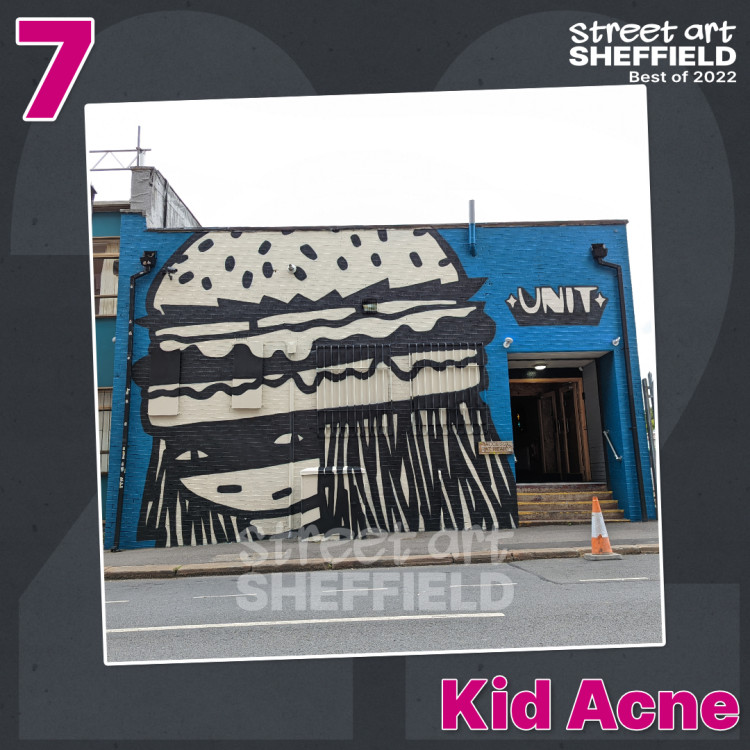 An unsurprisingly popular mural comes in at number seven. Painted at the end of the summer, Kid Acne's large feature wall covers the façade of Unit on Headford Street.
Those familiar with Kid Acne's work will recognise his warrior woman motif. This one takes on a fun twist with the warrior wearing a burger headdress, a fitting reference to the food served within the building on which it was painted.
Number 6 – Jo Peel & Mark McClure,
APG

Works

The next two entries in the top ten were both created as part of the summer's Out & About festivities.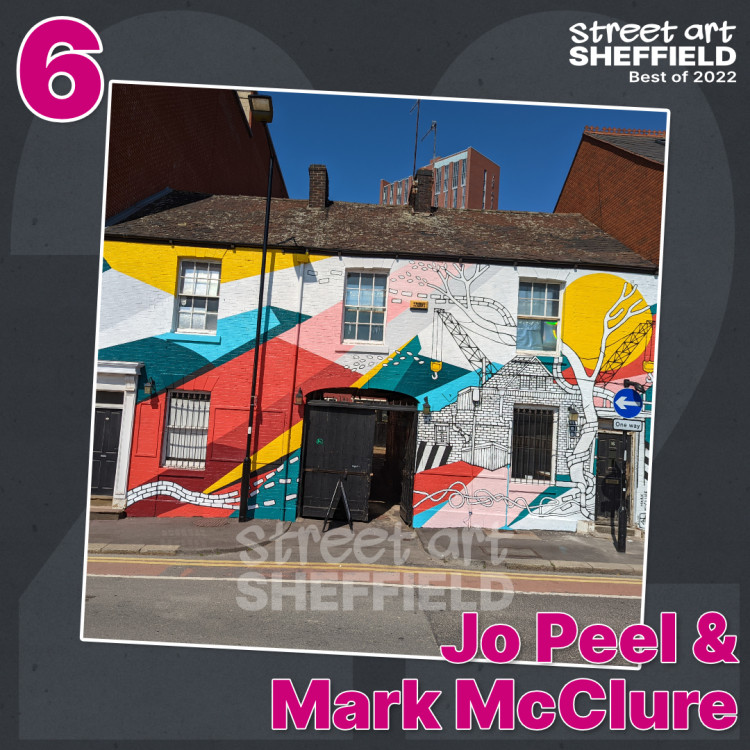 In sixth place is a collaborative piece by Jo Peel and Mark McClure. The two artists helped organise the new murals that were created across the Cultural Industries Quarter during the summer. Their APG Works mural was one of the last to be painted during the Out & About Paint Jam Weekender.
Number 5 – Enso, Rutland Arms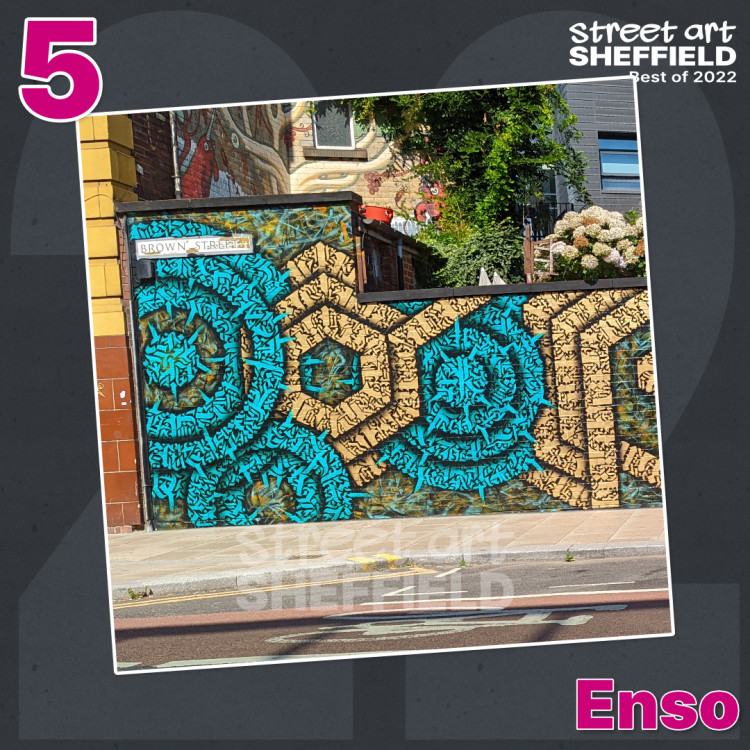 Making it into the top five is Enso's beautiful mural on the side of the Rutland Arms. This has to be one of his finest murals to date and it proved very popular on our street art tours of the Cultural Industries Quarter. That golden paint really shines in the sunshine.
Number 4 – Paul Wright, Golf Fang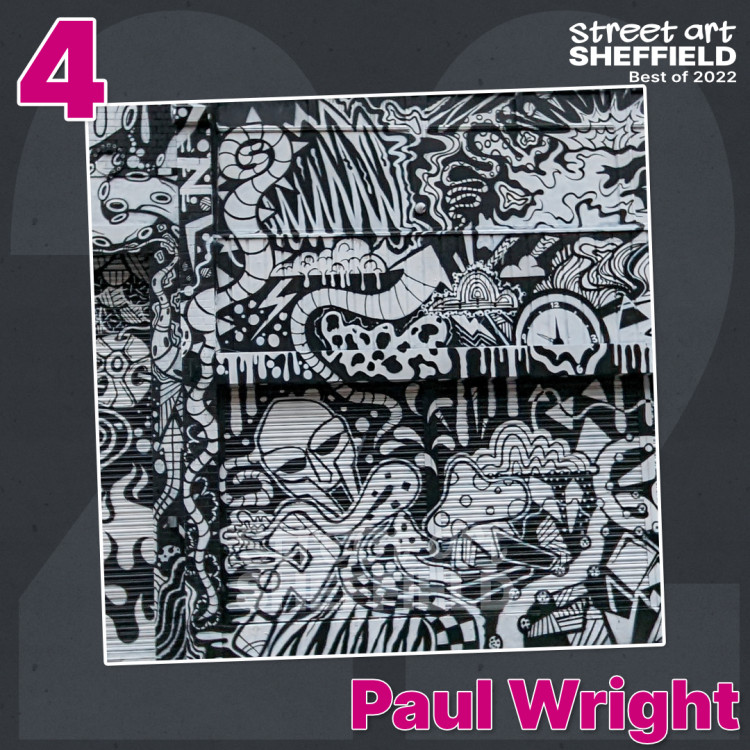 Golf Fang was our favourite new venue of 2022. It's a great crazy golf course (for adults) and the building is amazing, the walls and ceiling are literally covered in graffiti.
Artist Paul Wright was commissioned by the venue to create a giant black-and-white doodle on the front of the building. It is an impressive sight, easily the largest new mural of 2022, and it was clearly popular coming in at number 4.
Number 3 – Marquis De Rabbit, The Bear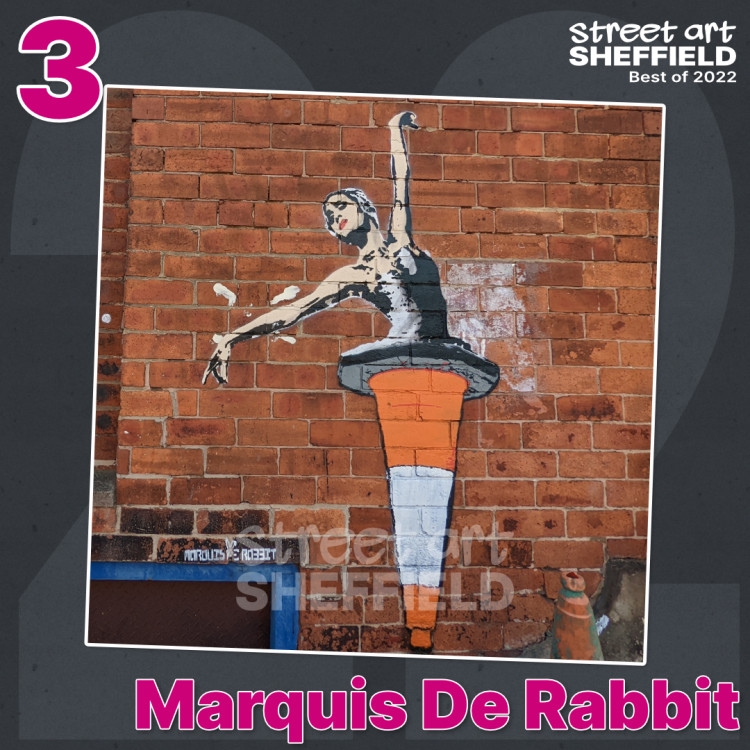 In third place is a small mural by Marquis De Rabbit. 'Cone Dance With Me' can be found just around the corner from Game Over's mural, that came in at tenth place, on the rear of The Bear.
This is a really fun piece that we think well deserves the high ranking our poll respondents awarded it.
Number 2 – Rob Lee, The Forum Bar & Kitchen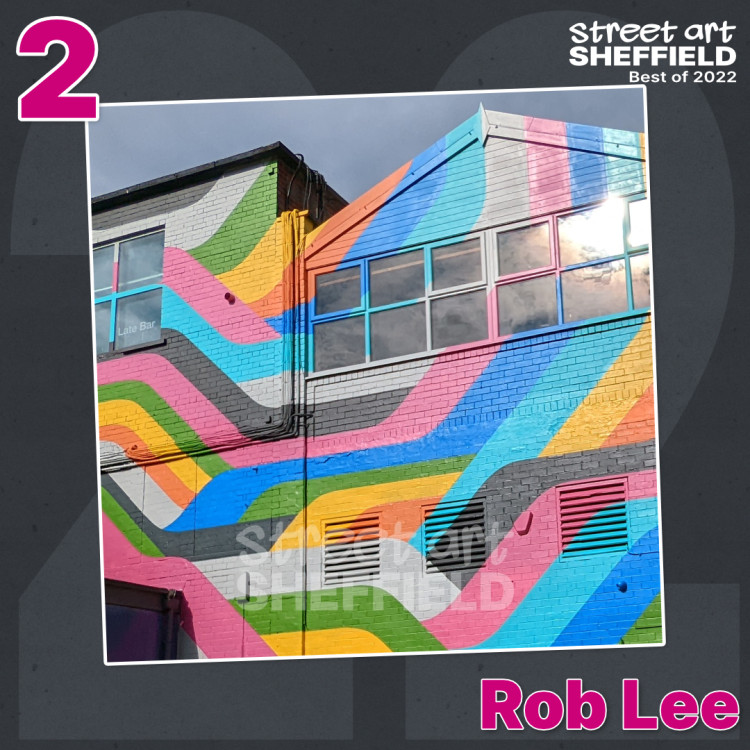 In second place is Rob Lee's colourful mural on the side of the Forum. It was commissioned by True North to celebrate their 30th anniversary and has made a striking addition to Devonshire Green.
Number 1 – Peachzz, London Road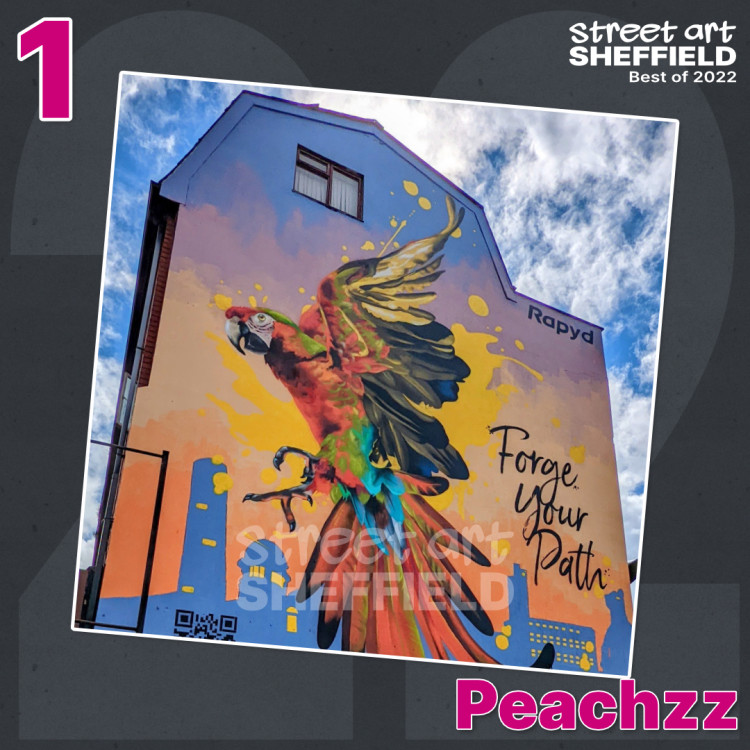 Sheffield's favourite artwork of 2022 can be found on the bustling London Road. Peachzz's 'Forge Your Path' mural is bursting with colour, and it's easy to see why it made the top of this list.
As you approach this mural, it's as if the parrot flies out from between the buildings. There's dynamism to Peachzz artwork. On closer inspection there's a lot of detail to the bird making it incredibly lifelike. You can also see that she has painted a Sheffield skyline at the bottom of the mural. It's one of those artworks that really deserves some time to fully appreciate it.
Whilst competition for second place has been a closely run race, Peachzz mural has been a clear winner since polling began. Just under 45% of respondents voted for this mural.