2022 is coming to a close. It's been a big year for Street Art Sheffield. The last 12 months have seen the launch of our new site and the start of street art tours of the city centre.
There's also been many new artworks created across Sheffield. Let's take a look at some of our highlights of the year.
Feature Walls
Lots of new feature walls were created throughout the year. One of the first to appear was Paul Wright's monochrome illustrative artwork that covers the large facade of Golf Fang. It has become one of Sheffield's largest murals. There's a lot going on in this fun artwork, we love it! The venue houses a crazy golf course and opened earlier in the year. If you've not been in, it's well worth a visit. The interior is covered in colourful graffiti, and the entrance hall is particularly spectacular.
Last year, the commercial murals created on London Road caused a bit of a stir. However, the latest mural to be created on this space by Peachzz has proven hugely popular. Featuring a giant parrot in flight over the streets of Sheffield, it's easy to miss that this artwork is advertising a brand. Peachzz creation is gorgeous and bursting with colour, so it's no surprise that people love it.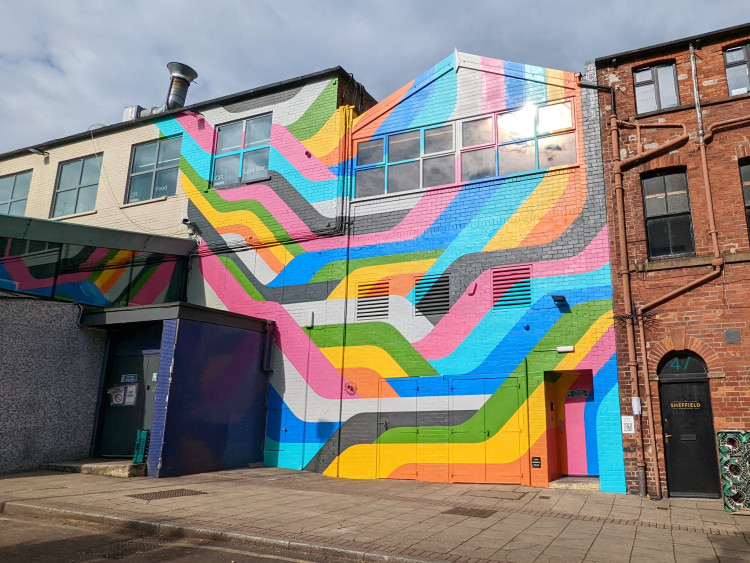 To mark their 30th anniversary True North commissioned this colourful mural by Rob Lee on the side of the Forum bar where it all began. This was their visual thank you to the people of Sheffield for the many years of support. It's a great addition to the street art to be found in the Devonshire Quarter.
Kid Acne has been fairly busy creating new pieces over the summer. He created several new artworks on shutters around the Cultural Industries Quarter. However, it's his mural for Unit on Headford Street that really grabbed our attention in 2022. It features one of the artist's trademark warrior women, this one wearing a burger on her head. Kid Acne has incorporated the street cabinet in front of the building so that he could make full use of the space provided; this does mean you need to stand in just the right spot to get it all to line-up nicely.
Stand with Ukraine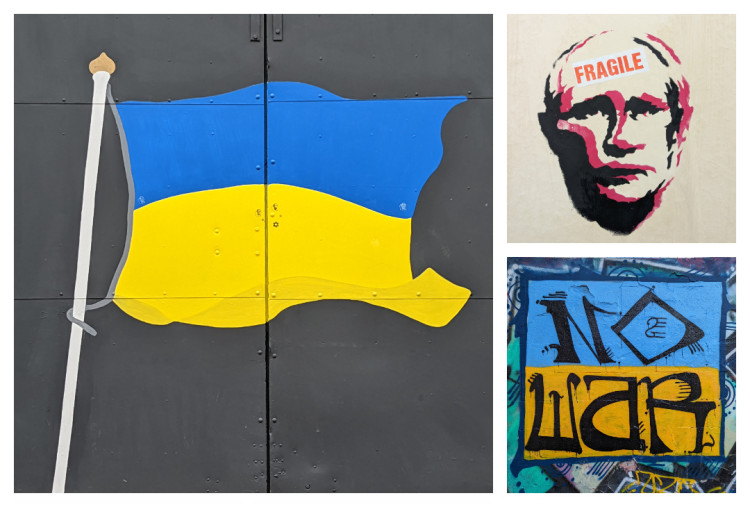 Putin's illegal full-scale invasion of Ukraine has dominated the headlines for most of the year. For a long time, Sheffield has been recognised as a city of sanctuary and early this year started welcoming Ukrainians fleeing the war. Putin's horrific actions in Eastern Europe have moved many artists to express their support for Ukraine on our city's streets.
Street Art Sheffield continues to stand with the people of Ukraine.
Out & About
This summer, lots of new murals and artworks appeared across the Cultural Industries Quarter as part of the Out & About programme of events.
Local artist Jo Peel and London-based Mark McClure created a fantastic new artwork on the facade of APG Works. They also curated the other murals including a colourful new piece by Italian artist Run and a new mural by Enso. You can checkout all the new artworks on our Murals across the CIQ page.
The Out & About Graffiti Jam weekender in August was a fantastic celebration of the new murals and saw lots of artists live painting in the Pinball Park and Sidney & Matilda courtyard. It was great to see so many people coming down to the Cultural Industries Quarter to soak up the atmosphere and see the artists busy at work. This was also the first weekend we ran some street art tours of the city centre. They proved so popular we ran further tours in the autumn.
Queen Elizabeth II
2022 was a historic year for the UK. In the summer, the Queen's Platinum Jubilee was marked with events up and down the country. Then, in September she sadly passed away. Whether or not you're a royalist, the Queen has been a constant in our lives. Her death marked the end of an era. Both events inspired artists to create works marking the occasions.
Other Highlights
There's been lots of small (and not so small) murals created across the city.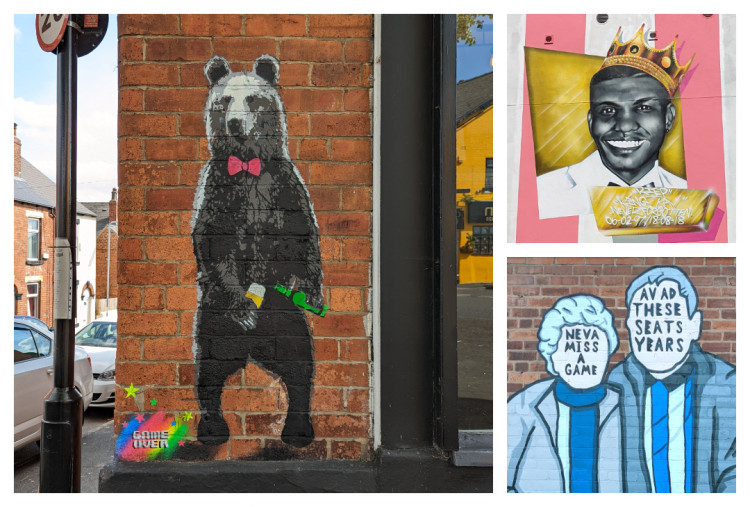 There's also been a lot of new painted shutters. Hillsborough alone is well worth checking out as lots of shutters have been transformed along Middlewood Road in the last couple of months.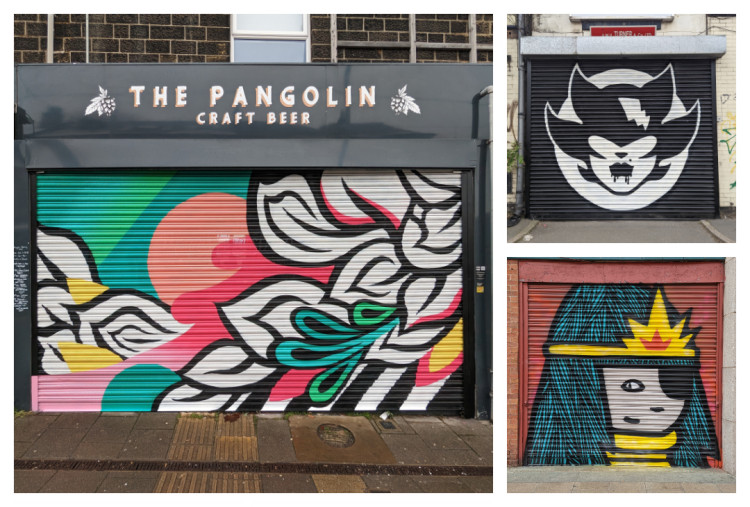 Finally, we couldn't end a review of 2022 without mentioning Bubba 2000. He's been pasting up new artworks across the city faster than we can capture them.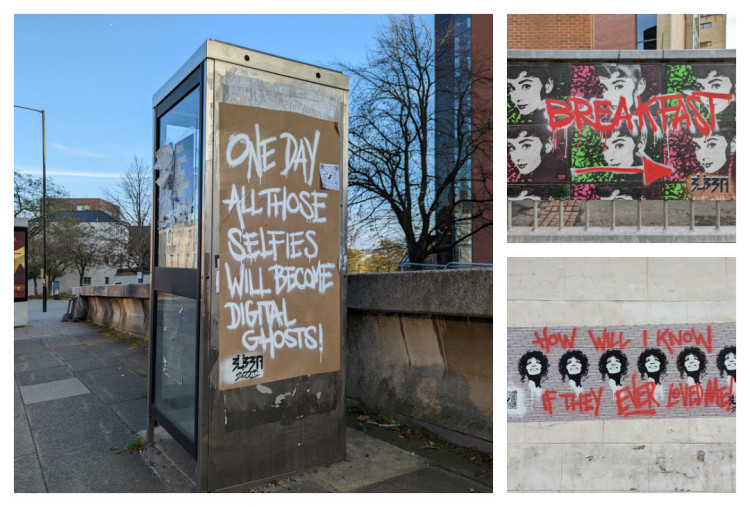 2023
There's just been so much activity on Sheffield's street art scene this year it has been very difficult to condense it into this year review. You can browse our gallery of artworks created in 2022 to find all the works we've discovered. Hopefully, 2023 will be another strong year for our cities urban art.
Have a happy new year everyone!