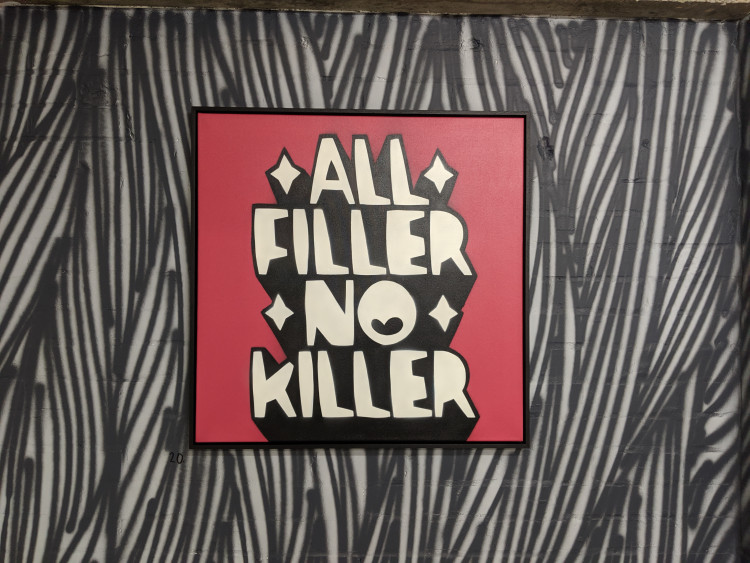 I managed yesterday, despite the heavy rain, to make my way to the final day of Kid Acne's Have a Word exhibition in Sheffield. It seems somewhat fitting that his first major solo show in the city was hosted at the S1 Artspace located in the centre of Park Hill where the artist has contributed many times over the years to its street art.
As the name implies Have a Word was an exhibition focused on Kid Acne's familiar typography and use of words. As well as being an artist, he is also a hip-hop musician and this latest show was used to express his lyrics through his artwork. The featured words all coming from new material for his upcoming album of the same name, Have a Word. A limited number of copies of his new album were available from the exhibition ahead of its November release.
It was interesting to see Sheffield host another solo exhibition of one of the major contributors to our city's street art scene in 2019 after Phlegm's show earlier in the year. Kid Acne's exhibition may have been on a much smaller scale than Phlegm's but it was still enjoyable and it's good to see events like this being put on in our city. It also provided a good opportunity to see what's been going on with the redevelopment of Park Hill. For example, it was nice to finally get to try out South Street Kitchen which I'd highly recommend.
The exhibition may be over, but there's plenty of Kid Acne street art to be found across Sheffield. You can also find out what the artist is currently up to on his website.
Kid Acne on Instagram: www.instagram.com/kidacne
Street Art Sheffield on Twitter: twitter.com/streetartsheffield