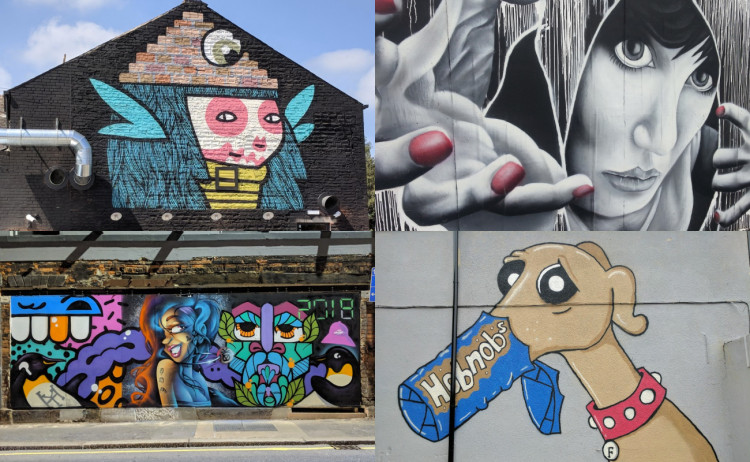 Today marks the fifth anniversary of Street Art Sheffield. I can hardly believe it's been five years since I first launched the website. The site now has well over a thousand photos of street art and graffiti taken across Sheffield (and Rotherham). Thank you to everyone who has visited, supported and promoted Street Art Sheffield over those years. It has given me a great deal of motivation to continue developing the site knowing how much people have been enjoying using it. Particularly over the course of the last 12 months I have been approached by a number of people who have told me how much they love what this site has been doing for the city's street art scene.
It has been fantastic watching the scene grow and develop over the last few years. When I started this website the Cultural Industries Quarter was very much the heart of Sheffield's street art culture. However, the city's ever changing landscape has meant it has slowly lost that crown. Just as it seemed like Sheffield's street art scene was in decline new areas emerged home to some fantastic artwork and murals; for example, Kelham Island, Neepsend and the Antiques Quarter among other parts of the city.
My highlights
There have been a number of highlights for me over the last five years of running this site. The Feature Walls festival back in 2016 was one of them. Seeing both local and international street artists descend on the city to produce 18 amazing large scale murals was brilliant. Many of those murals still exist today. It is just such a shame that it was a one-off festival. Sheffield is such a creative city, an annual street art festival would fit in well as part of the its cultural calendar. I still hope that we've not seen the last of Feature Walls and that a second instalment will eventually arrive.
Another of my highlights was earlier this year when the internationally renowned artist Phlegm returned to Sheffield to put on his Mausoleum of the Giants show. I was extremely privileged to be invited to a private viewing of the exhibition in the old Eye Witness building. Getting to wander alone around Phlegm's giant sculptures is an experience I will long cherish. Phlegm has been a favourite street artist of mine, and one that originally sparked my interest in the street art scene.
At the time of Phlegm's Mausoleum of the Giants there was an incredible buzz of excitement about street art in the city. Thousands visited the exhibition, many from beyond the region. People on the street were talking about the fantastic murals that adorn many of the walls about the city.
I've begun to realise that Street Art Sheffield has become more than just a small personal project that I quietly started to put together back in 2014. I have been contacted by people from all over the UK keen to discover more about Sheffield's street art scene after discovering this website. This year I have been invited on a number of occasions to add my voice to the conversation about the culture in our city; from contributing to Sheffield Uni student Francesco Munari's street art project to participating in the From Brooklyn Works to Brooklynism symposium down in Kelham Island this summer.
Street Art NQ
2019 has also seen Street Art Sheffield branch out with a new sister website for Manchester. Back in May I launched Street Art NQ to provide a place to share the many photos of street art and graffiti I have taken in Manchester's Northern Quarter on my trips across the Pennines. The North of England truly has some amazing street art and it needs to be celebrated.
Here's to the future
So again, thank you for visiting this website and helping to make it what it is today. I hope that Street Art Sheffield has many years ahead of it and that Sheffield's street art scene will continue to thrive. If you don't yet follow Street Art Sheffield on Twitter and Facebook please do and help raise awareness of the amazing public artworks that our city has to the rest of the world.
Street Art Sheffield on Twitter: @streetartsheff
Street Art Sheffield on Facebook: streetartsheffield
Street Art NQ on Twitter: @streetartnq
Street Art NQ on Facebook: streetartnq