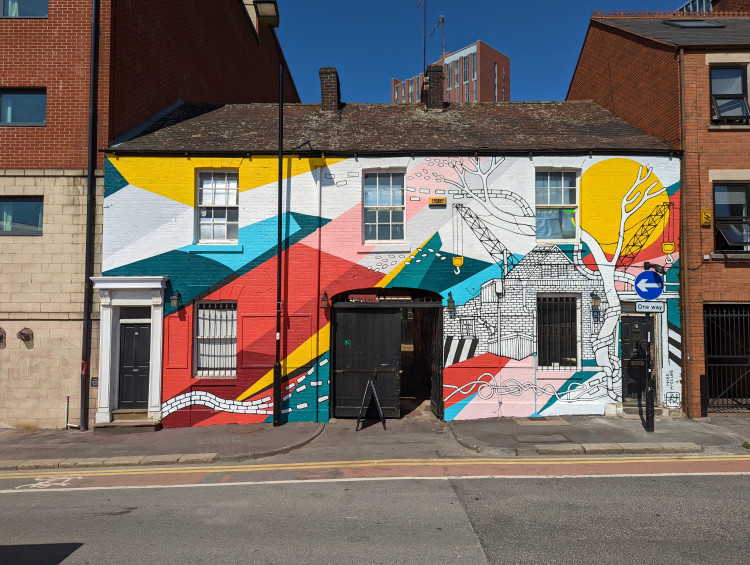 A study by South Western Railways has ranked Sheffield in the top ten UK cities for street art. By analysing Instagram hashtags, TikTok views and Google searches they've identified the most popular street art spots in the UK.
Sheffield came in at a respectable seventh, just behind Brighton in sixth place. Perhaps unsurprisingly, the top UK city for street art is London.
Ranking in the top ten is no surprise to us. We've been championing Sheffield's street art scene for the last 8 years. The Steel City is home to many amazing murals from both local and international artists. It's great to see that these are getting recognition on social media.
This summer's Out & About Paint Jam highlighted the buzz that our street art scene can generate. People from Sheffield and further afield visited the city centre to discover the new murals and see artists live at work. A few years back, an exhibition by the Internationally recognised street artist Phlegm drew huge crowds to Sheffield. People queued for hours to see his artist creations.
Street art has become very popular, and encourages tourism to our urban centres. In recent years, street art has been attracting positive headlines in the media, raising awareness of what our cities have to offer.
As one of the largest cities in the UK, we reckon Sheffield should be aiming higher. The Steel City should be in the top 5 street art cities. For this, we need greater recognition of our city's street art and murals by the council. We also need more investment in creating new artworks. The big statement feature walls that attract visitors need funding. Tourism created by street art will be a boost to the local economy as these visitors will use our hotels and other hospitality businesses.
It was great to see funding for new murals this summer come from the council through the economic recovery funds. However, more funding is needed to ensure the scene continues to grow; and continued support is needed to replenish or replace ageing artworks.
If you'd like to discover some of Sheffield's finest street art, come join us on one of our street art tours of the city.
Top Ten UK Street Art Cities
London
Bristol
Manchester
Glasgow
Liverpool
Brighton
Sheffield
Belfast
Birmingham
Edinburgh
We learnt about South Western Railways findings courtesy of The Star.