Graffiti: Street Art & Soul documentary campaign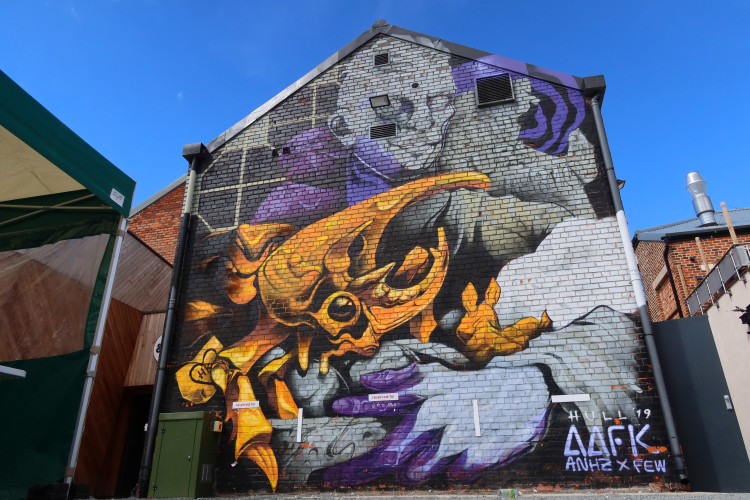 Dan Rooke is a South Yorkshire based street art enthusiast and photographer.
I first met Dan last summer on one of our Sheffield street art tours. He spoke passionately about street art and his plans to make a documentary about the graffiti scene. He's now raising funds to make his film a reality.
I recently caught up with Dan to find out more about his enthusiasm for street art and the documentary he is working on.
You've been interested in street art for a long time. What most excites you about the scene?
I guess it's the unknown. Whether I'm walking around an area I've never been to, or doing a regular circuit – there's always new stuff. Even if I'm travelling to see a specific piece, there's always the uncertainty that it might not be there, or it might not be in the condition I'm expecting.
When I think about the moments I've been most excited when looking at street art, the stand out moments are when I feel like I've "discovered" something – imagine Indiana Jones, but covered in thorn scratches and looking under railway arches!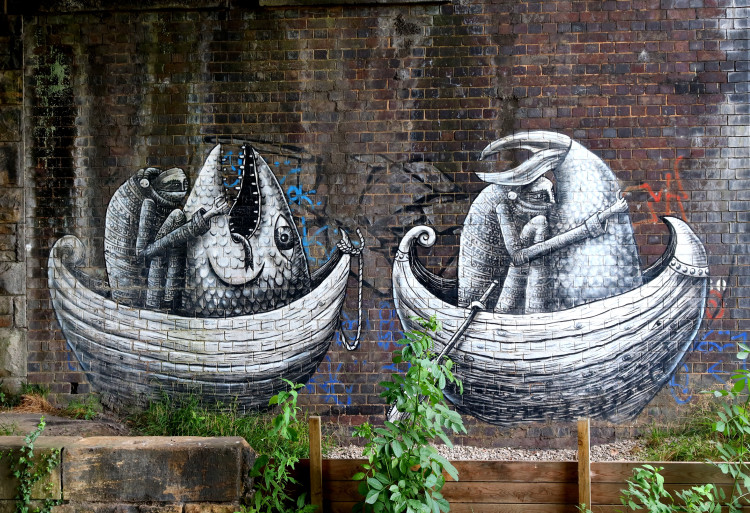 A big part of the street art scene is the fact that it's surrounded in mystery; locations are rarely shared, artists remain anonymous – this gives it a real buzz, finding pieces can sometimes feel like a game so when you find something fresh, it really feels like a win.
Do you have a favourite Sheffield mural or street artist?
That's a really difficult question to answer. Sheffield has a disproportionate amount of artists compared to most places, I've said it before and I'll state it here: Sheffield is one of the most under-valued cities in terms of art, it's a genuinely excellent cultural hub and I think Sheffield's artistic fire-power has (thankfully) started to radiate outwards to neighbouring towns/cities.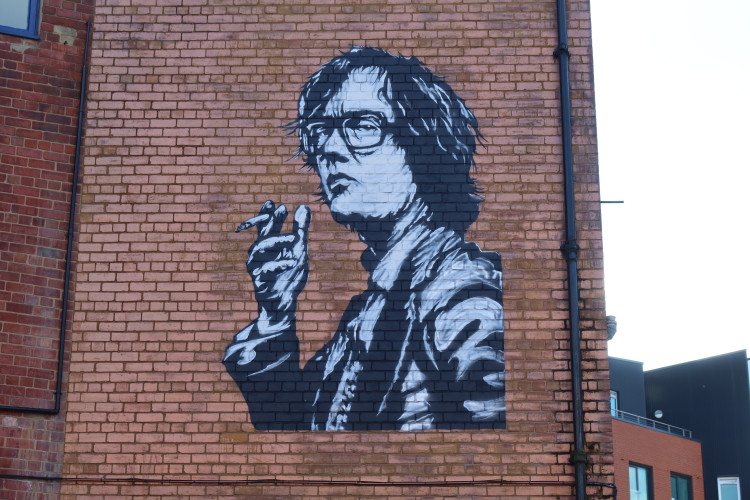 Artists like Trik9 have a really distinct style and were among the first I could recognise immediately, Peachzz work is beautiful and one of the artists I "showcase" to friends who want to see more. Mila K has that unique black-and-white cyberpunk style that always looks cool. Rob Lee's geometric artwork is mesmerising (I was lucky enough to see him painting a recent project in Doncaster.) Bubba2000's Jarvis Cocker mural was a piece I specifically drove out to see because Jarvis was such a hero of mine as a teenager. As I'm typing this – more artist names are popping into my head – Phlegm, Affix, Pete McKee. And Kid Acne! How can I forget Kid Acne?!!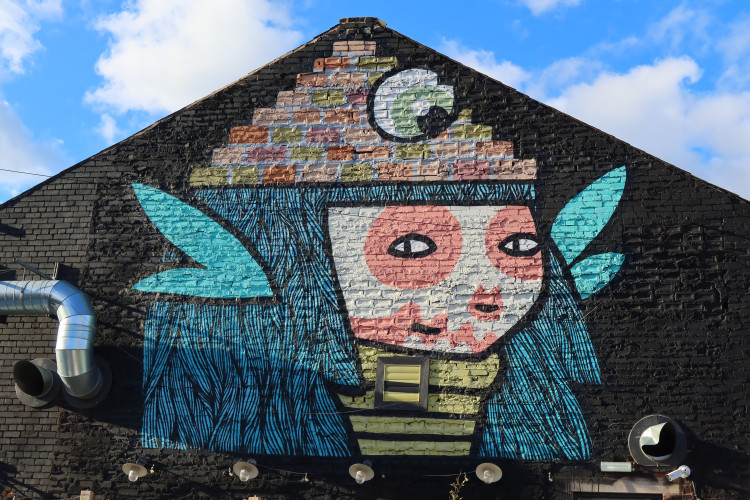 So to answer your question: no. No I don't have a favourite, but the cumulative effect of all that artwork in such a concentrated area is pure magic, with every artist amplifying that energy.
Beyond Sheffield, where do you recommend going for street art?
A walk around most large cities (such as Leeds, Manchester, Liverpool) will yield some superb artwork, especially in the cultural quarters. London (Leake St. Tunnel and Brick Lane) is famous for Street Art, as is Bristol (home of Banksy). But I suppose those are all quite obvious. If you do go to Manchester, make sure you walk the Manchester Ship Canal, I was not expecting there to be so much incredible art there and the online guides tend not to mention it.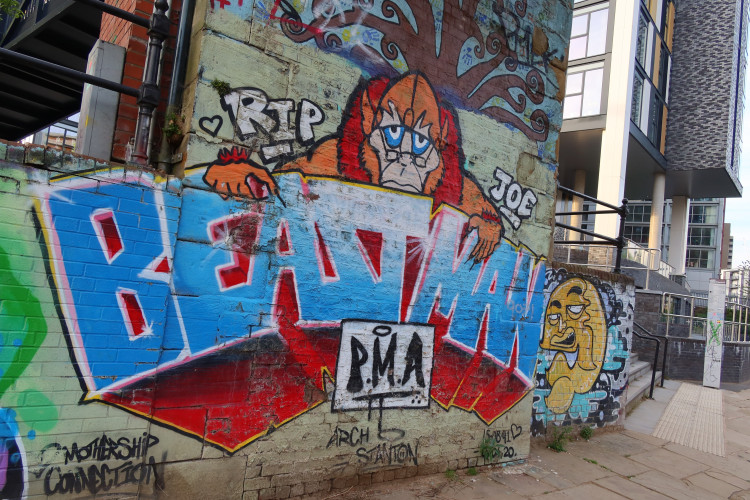 Legal walls/underpasses are excellent places to see great art, and these tend to change a lot. I was at one in Horbury (West Yorkshire) just yesterday and was lucky enough to see an artist at work there too. I go there every few weeks to see what's new.

But, my big recommendation is Hull. The graffiti/street art scene there is mind-blowing. I've visited a few art galleries, and Bankside Gallery at Hull easily competes with them. There are new pieces going up every day so regular visits will be rewarded! If you're based in Yorkshire/North Lincs, then Hull is easy to get to – and you'll be greeted by an amazing Dan Kitchener mural as you enter the city. It's a great place to visit if you have kids too – lot's of vibrant walls, and many with pop-culture references they'll be sure to recognise.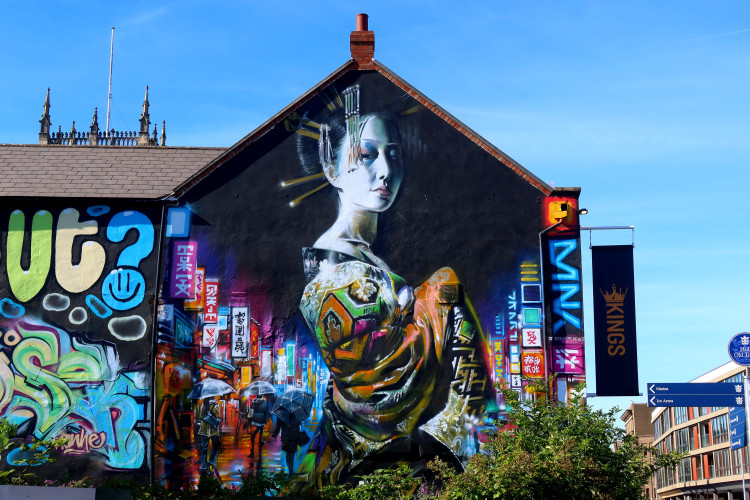 Digbeth in Birmingham is well worthy of a pilgrimage. The "Custard Factory" area is almost a sensory overload of street art, I don't think I've ever seen as much street art in one area – it needs several visits to see it all.
What is the motivation behind your documentary and what will it be about?
I'm going to copy and paste from my website here – not because I'm lazy, but because it gives a good idea of the scope of the documentary:
My documentary will focus on street art & the value it brings to local communities. It will look at local identity and how it is captured on public walls, I will explore the human compulsion to express ourselves and how graffiti is often the perfect medium for that. Many authorities have actually been able to tackle problems with vandalism and convert a problem into celebrated art spaces. Perhaps the solution to unwanted graffiti and the cost of cleaning it up, is to re-assess what graffiti is and embrace it – allow members of the community to shape their cultural landscape, let our vandals be artists. If the film helps to encourage discussion around legal walls then I'll be well chuffed, legal graffiti spots can quickly become hotspots for insane levels of local talent.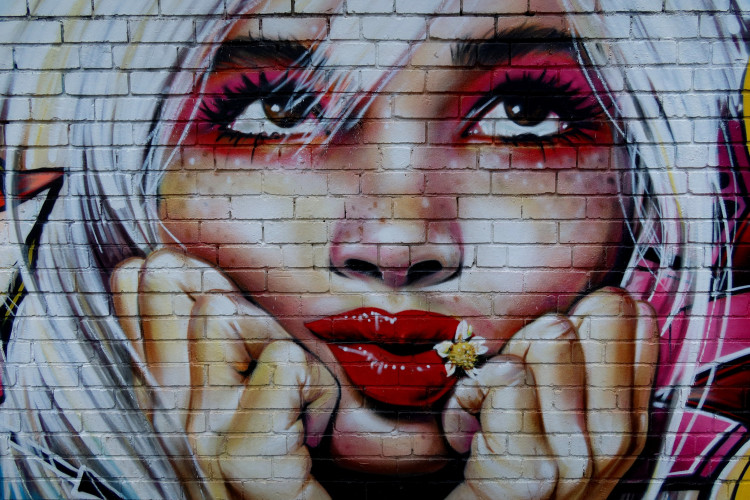 In terms of motivation, that's an interesting question, and it probably starts in Sheffield…
…I used to work in Sheffield, and while sat on a bus I noticed some crude graffiti on a wall. I can't recall what it was, but I do remember that someone had written underneath it; "if only life were this easy". It made me laugh, and then it made me think about the person that replied. For someone to feel strongly enough to take the time to reply and make their own statement. It was at that point that I really started to think about the people behind the graffiti and I took more notice of it. If I saw graffiti I'd take photos of it. This then became a personal project to go out and catalogue what I saw, starting with an amazing wall by a favourite artist of mine (SP Zero) in my home town of Doncaster.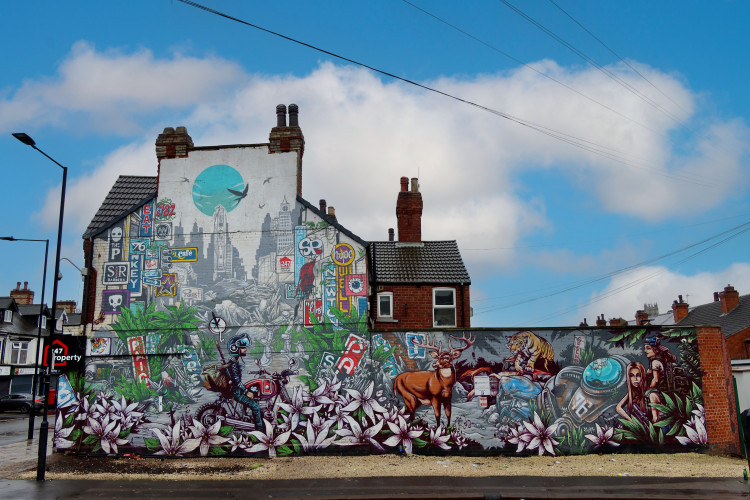 I have to thank Street Art Sheffield for providing an amazing resource. My first "proper" day out to photograph graffiti was in Sheffield. The website enabled me to plan my walks and identify artists, but more importantly – it demonstrated that there are others out there who love this stuff too. It really kickstarted my Street Art adventure! The website also does a great job of archiving art, as artwork is lost to the weather, fresh paint and bulldozers – Street Art Sheffield ensures it's not lost forever.
How do you plan on getting the finished film seen?
Thankfully in our modern age it's easy to get a film on an online platform so people can see it. This is not a commercial venture, I never started this project with the desire to profit from it so I'm not burdened by those obligations. The main thing I want is for people to see it. There's a good chance this will go on Youtube so everyone can see it. There are also specialist streaming services which specialise in independent documentaries. Once I've got footage captured and edited I can explore those possibilities.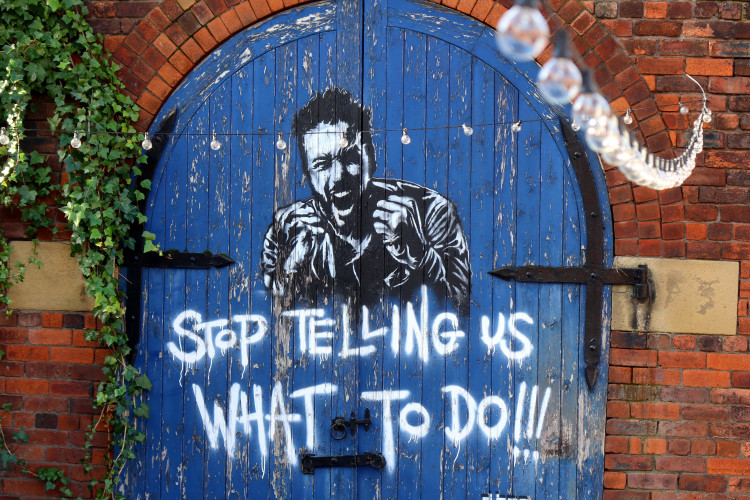 This is a personal project so I'll fund it as I go along. It's a low budget documentary so only requires the basic kit.
As is common with independent films, I have an Indiegogo crowdfunder campaign for anyone who would like to support the project. I've had some enamel pin badges made (made in Sheffield actually!) so that backers can get something nice as a thank you. I don't have an army of followers on social media so the crowdfunder doesn't have much exposure, but anything it raises will help towards production costs. All backers will of course receive a thank you in the film credits too.
Thanks
Big thanks to Dan for giving up some of his time to answer my questions and allowing us to reuse some of his great photos.
If you would like to support Dan in the making of his documentary, he is currently raising funds on Indiegogo. You can also find him on Twitter and Instagram.